Jewish Museum gun suspect 'was captor in Syria'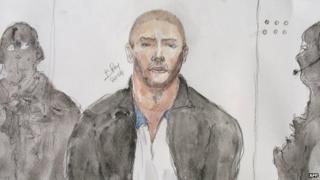 A freed French hostage has claimed that one of the Islamists who held him captive in Syria was the suspect in the Jewish Museum shooting in Brussels.
Nicolas Henin told Le Point magazine that Mehdi Nemmouche regularly tortured captives in Syria in 2013.
Four people were shot dead in the attack at the museum in May this year.
Mr Nemmouche was arrested in France shortly afterwards and extradited to Belgium for questioning. He faces a hearing on his detention next week.
Marseille arrest
Mr Henin was among four journalists freed in April.
He told Le Point magazine that Mr Nemmouche was a feared figure.
Mr Henin said: "When Nemmouche was not singing, he was torturing. He was part of a small group of Frenchmen whose visits would terrify the 50-odd Syrian prisoners held in the cells nearby.
"Every night the blows would start raining down in the room, where I was also interrogated. The torture lasted all night, until dawn prayers."
Mr Henin's lawyer, Marie-Laure Ingouf, told Agence France-Presse that "all the hostages" confirmed Mr Nemmouche was one of the jailers.
"They lived alongside him for several months," she said.
A judge in Brussels is scheduled to rule on Mr Nemmouche's detention order at a hearing on Friday.
Mr Henin was held for a period with American journalists James Foley and Steven Sotloff, both of whom were recently beheaded by the Islamic State group.
Mr Nemmouche, who is of Franco-Algerian origin, appealed against the extradition from France, fearing he might be sent on to Israel, but lost the case.
Two of the victims of the 24 May attack were Israeli tourists. A French female volunteer at the museum and a Belgian employee were also killed.
Mehdi Nemmouche is from Roubaix near the border with Belgium and was arrested in Marseille during a routine customs check as he arrived on a coach from Amsterdam a few days after the shootings.
Police said he was carrying a Kalashnikov rifle and a handgun matching those used in the attack.
Prosecutors said that after spending a year in Syria he had returned to Europe, flying to Germany in March.