Pope Francis plans to rein in trade in Vatican scrolls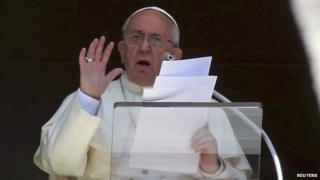 Pope Francis has ordered souvenir shops to end a profitable trade in Vatican scrolls, completing a process said to have been started by his predecessor.
The ornate parchments, bearing the seal of the Vatican, have been sold as gifts or to mark major church events such as weddings, baptisms and ordinations.
From next year, the scrolls will only be sold directly by a Vatican website.
The move is expected to divert profits away from the souvenir shops, to charities chosen by the Vatican.
Under the current system, the shop-owners collect the bulk of the profits from sales of the parchments.
The scrolls are sourced from the Vatican for as little as 3 euros (£2; $4) and can be sold to the public for up to 50 euros.
The parchments bought online under the new system will cost less. However, all the profits will be given to charity, the Vatican says.
The first steps to end the souvenir shops' trade in scrolls were taken four years ago by Pope Benedict, according to the Italian newspaper, La Stampa.
Archbishop Konrad Krajewski, the official in charge of the Pope's charity office, had informed shopkeepers in April this year that their license to sell the scrolls would not be renewed in 2015, the newspaper reports.
Italian news agency Ansa says the owners of souvenir shops have complained about the order, whose existence was confirmed last week.