Cork deaths: Funerals held for brothers in Charleville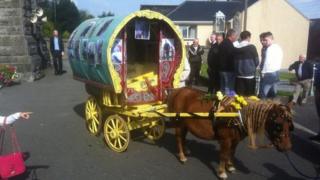 The funerals of twin brothers who were found dead at their home in County Cork have taken place.
Thomas and Paddy O'Driscoll, who were nine, are believed to have been stabbed by their brother, Jonathan, 21, at their home in Deerpark, Charleville.
His body was found in Buttevant shortly afterwards.
Requiem Mass for all three is took place in Charleville. The twins were buried in the local cemetery. Their brother was buried elsewhere.
He was laid to rest with his maternal grandparents in nearby Kilmallock.
In his homily, Fr Tom Naughton told the congregation at Holy Cross church that if the recent days had taught people anything at all, it was the challenge to continue and to increase efforts to understand and to assist, especially young males, to communicate the darkness that seems to be increasingly troubling young minds and hearts.
He described the twins as "lovable rogues".
They were fun-loving and energetic. They loved playing with their friends," he told mourners.
"They were very honest, direct and straight. They said it as it was. They knew how to say sorry and were famous for their hugs."
Fr Naughton described their older brother Jonathan as kind and thoughtful.
"Jonathan made the whole family happy. He was there when you needed him and could pop up at any stage," he said.
"He loved all his godchildren and never forgot their birthdays. He'd go up to Dunnes and buy little outfits as birthday presents. All three boys went hunting together."