Three al-Shabab suspects arrested at Frankfurt airport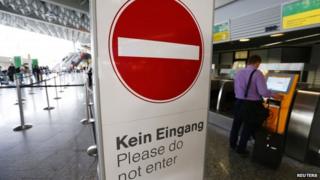 Three German men suspected of ties to Somalia's militant Islamist al-Shabab group have been arrested at Frankfurt airport, the federal prosecutor says.
The men were detained as they tried to re-enter the country after returning from Kenya on Saturday.
They are suspected of spending many months in Somalia, where they allegedly received weapons and combat training.
Al-Shabab controls rural areas of Somalia but has stepped up attacks in neighbouring Kenya in recent years.
Foreigners are known to work alongside the al-Qaeda-linked group, which has been banned as a terrorist organisation by both the US and the UK.
No 'concrete plans'
The men were detained on Saturday after landing in Frankfurt.
They face charges of membership to a foreign terrorist organisation and of preparing an act of violence in connection with their time in Somalia, the office of the federal prosecutor said.
It said there was no evidence to indicate the suspects "had made any concrete preparations or plans for attacks" in Europe.
Germany's public broadcaster SWR said the men had returned to Germany because they no longer wanted to fight on behalf of al-Shabab.
The group, which is seeking to overthrow the UN-backed Somali government, frequently attacks official targets.
It also strikes neighbouring countries that provide troops to the African Union force fighting al-Shabab militants in Somalia.
The group was behind the Westgate Mall attack in Kenya last September, in which at least 67 people were killed.
On Saturday al-Shabab named Ahmad Umar as successor to former leader Ahmed Abdi Godane, who died in a US air strike last week.