Russia 'blocks Estonia' over captive border security man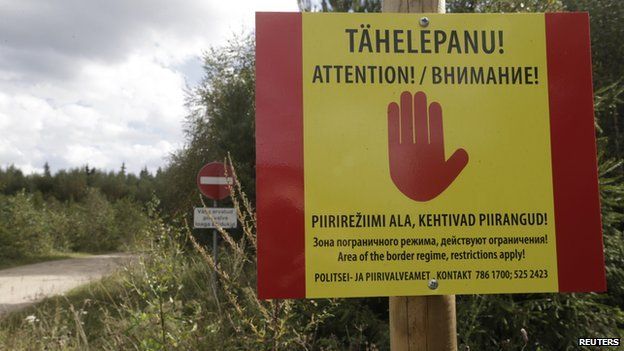 Estonia says it is trying to get in touch with an Estonian security official detained by Russia at the border and accused of spying.
So far Russia has refused to let the Estonian consul in Moscow meet Eston Kohver. "We don't know where they are keeping him behind bars," the Estonian Security Police (Kapo) told the BBC.
"As far as we know he wasn't injured," police spokesman Harrys Puusepp said.
There is a dispute about whether he was seized on Estonian or Russian soil.
"The consul should have been allowed to get into contact. The consul needs to meet him and get to the bottom of this situation," Mr Puusepp said.
"We had protection for him," Mr Puusepp said, but there were "explosions" during the incident which enabled the assailants to abduct Mr Kohver.
"We have proof he was definitely on Estonian ground. In that area the Estonian border is not fenced, it's bushes, high grass and forest. There's no line on the ground but everyone knows where it goes, it's recognised by both sides," he said.
The dispute comes amid heightened tension with Russia. Estonia, like neighbouring Baltic states Latvia and Lithuania, joined Nato and the EU in 2004.
The EU and Nato accuse Russia of directly helping separatists in eastern Ukraine with regular troops and heavy weapons. Russia denies doing so.
Estonia's foreign ministry summoned the Russian ambassador on Friday over what it called the abduction of Mr Kohver by "unidentified individuals from Russia" near Luhamaa border checkpoint.
The alleged kidnappers reportedly jammed Estonian radio communications and used at least one smoke grenade during the incident.
Russia's domestic security service, the FSB, said it had detained him as he was on a "spying operation" on Russian territory.
Mr Puusepp dismissed that allegation, saying Mr Kohver "isn't in counter-intelligence - he was working on organised crime, contraband and corruption".
He said the border incident was "very unusual - I can't remember anything like this since Estonia regained independence [in 1991]". He said Mr Kohver had been "abducted at gunpoint".
The FSB said Mr Kohver was caught carrying a pistol, 5,000 euros (£3,980; $6,539) in cash, an eavesdropping device and "other materials related to intelligence-gathering".