Polish leader Komorowski praises Germany reconciliation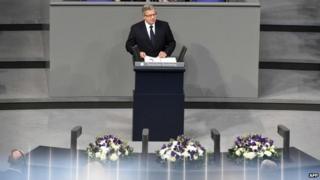 Polish President Bronislaw Komorowski has spoken of reconciliation, in a speech to the German Bundestag commemorating the Nazi invasion of Poland 75 years ago.
He said both countries should be proud of what they had achieved, especially since the 1989 fall of the Berlin Wall.
"What unites Europeans is the conviction that the dignity of humanity is inalienable."
German forces invaded on 1 September, sparking the outbreak of World War Two.
The president of the Bundestag, Norbert Lammert, said Poland had become the biggest graveyard of European civilisation under German occupation, and he spoke of the industrial extermination of Europe's Jews.
Mr Komorowski said it was a miracle of reconciliation that Europe had put its hatred behind it and that a younger generation of Poles and Germans were able to work and study together.
He mentioned a 1995 speech in the Bundestag by former Polish Foreign Minister Wladyslaw Bartoszewski who said that the future of a united Europe would be dependent on Polish-German relations.
Europe had to respond to the challenge of the conflict in Ukraine and the "unprecedented aggression" from Russia, he said.
But Poland and Germany in particular should work closely together.
"We need a shared German-Polish responsibility for the future of Europe," he said.
Last week, he took part in a ceremony north of Gdansk with German President Joachim Gauck, in which Mr Gauck promised German support in the face of renewed threats to Europe's stability.