Ukraine crisis: Poroshenko offers rebels more autonomy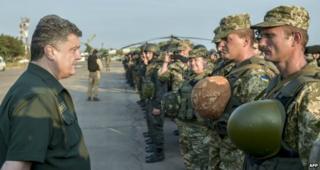 Ukraine's president says he will grant more autonomy to separatists in the east to keep the country together.
Petro Poroshenko said the current ceasefire had changed the situation "drastically", despite reports that rebels had captured another town.
One rebel leader in Donetsk dismissed his comments and said they intended to break away and become independent.
The truce came into effect last Friday in a deal signed in Belarus and backed by Ukraine, the separatists and Russia.
More than 2,600 people have been killed since fighting between pro-Russian rebels and government forces erupted in April.
Mr Poroshenko and Russian President Vladimir Putin spoke by phone on Tuesday and said they were satisfied with how the truce was holding, a Kremlin official confirmed.
Speaking during a televised meeting with his government, Ukraine's leader said that implementing the truce had been "difficult" in the midst of a "war for the independence and integrity" of the country.
But he added: "The situation has radically changed at the front. Before the ceasefire was announced, Ukraine was losing the lives of dozens of its heroes on a daily basis."
Although Russia has consistently denied sending troops into Ukraine, Mr Poroshenko said the latest intelligence suggested "70% of Russian troops have been moved back across the border".
Amnesty International has called on Russia to urgently investigate allegations of war crimes in Ukraine and secure the release of two prisoners it said were illegally taken across the border.
The human rights group also said it had evidence that human rights abuses had been carried out by rebels backed by Russia and by the Aidar Battalion, a Ukrainian volunteer defence group.
'No territorial concessions'
President Poroshenko said he was seeking a permanent solution to the conflict and had submitted a bill to parliament that would give separatists more autonomy but with "a status that keeps these regions in Ukraine".
"Ukraine will not make any concessions on issues of its territorial integrity," he insisted.
But Andrei Purgin, the deputy prime minister of the self-proclaimed Donetsk People's Republic, responded to the comments by saying that the rebels "are not considering remaining part of Ukraine".
In other developments:
Rebels said they had captured the town of Komsomolske in the Donetsk region but Ukrainian officials disputed the claim
Ukrainian TV said three border guards had been killed in an explosion in neighbouring Luhansk region
The Organization for Security and Cooperation in Europe said it might send drones to monitor the ceasefire
President Poroshenko has been invited to address a joint meeting of the US Congress when he visits the US next week
'Russia forced to act'
Last week, Nato agreed to set up a new rapid response force to counter threats against sovereign states in the alliance.
Speaking on Wednesday, President Putin warned that Russia was being forced to bolster its defence because of Nato's growing presence in eastern Europe.
"The crisis in Ukraine, which was basically provoked and created by some of our Western partners, is now being used to revive this military bloc [Nato]," Mr Putin said at a government meeting.
He said Russia was being "absolutely forced to take appropriate measures in response" and warned the West against "any hysterics" towards Russia's strengthening of its security.
Also on Wednesday, reports said that EU officials had failed to decide on when sanctions imposed on Russia for its support of the rebels should be enforced. Discussions will begin again on Thursday, an EU diplomatic source has told AFP.
Some European countries have expressed fears that Russia could disrupt the flow of gas into Europe if relations between the EU and Moscow are further strained.
Poland complained this week that it was receiving 20% less gas than normal from Russia but Russian gas giant Gazprom insisted it had not reduced supplies.
MH17 responsibility
Meanwhile, Russian Defence Minister Sergei Shoigu said on Wednesday that Ukraine bore "full responsibility" for the downing of Malaysia Airlines flight MH17 on 17 July.
He was speaking after Dutch investigators released a preliminary report on Tuesday, saying that the plane, which crashed in rebel-held territory in eastern Ukraine, was hit by by "objects" that "pierced the plane at high velocity".
All 298 people on board died when the plane came down. Ukraine says it was shot down by rebels using Russian hardware.
But Mr Shoigu told Malaysian Defence Minister Hishammuddin Hussein that Ukraine "bears full, total responsibility" for the crash because it happened in Ukrainian airspace.
---
Russian media reaction to MH17 report
Mikhail Khodarenok, writing in Moskovsky Komsomolets newspaper:
"It is nonsense to spend two months investigating the crash and not to be able to say what destroyed the aircraft... It seems the results they obtained do not fit the 'right' theory. That's why they are beating about the bush."
Igor Korotchenko, writing in the Komsomolskaya Pravda newspaper:
"We have got no closer to knowing who downed the aircraft and with what missile. The only conclusion we can draw is that Ukraine is hiding the traces and preventing an objective inquiry... The answer is clear: the evidence shows what actually happened to the airliner, and it looks like Ukraine is to blame."
---