MH17 crash: Investigation focuses on '25 metal shards'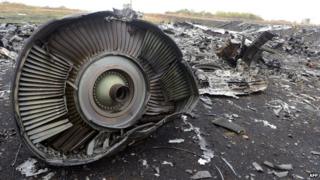 The investigation into the downing of Malaysia Airlines flight MH17 is searching for clues in 25 pieces of metal recovered from bodies and debris.
Dutch officials heading the inquiry say they want to establish whether the iron fragments could prove the theory that a ground-to-air missile struck the plane.
Flight MH17 came down over eastern Ukraine on 17 July, killing all 298 people aboard, mostly Dutch citizens.
The investigation has been hampered by continued fighting near the crash site.
Detectives are relying heavily on forensic samples taken from bodies and baggage, as well as satellite data, interviews with witnesses, computer reconstructions, online evidence and intercepted communications.
Flight MH17 was flying from Amsterdam to Kuala Lumpur when it crashed in rebel-held territory in eastern Ukraine.
Ukraine and Western countries have accused pro-Russian separatists of downing the plane with a surface-to-air missile, supplied by Russia.
Russia and the rebels have denied the allegation, instead blaming the Ukrainian government for the attack. Russia is playing no role in the criminal investigation.
Intercepted conversation
At a news conference in Rotterdam on Friday, Fred Westerbeke, chief prosecutor for the Dutch national prosecution service, said that the investigation was particularly interested in the origin of 25 pieces of iron, drawn from 500 samples.
"The most likely scenario was that the plane was shot down from the ground," he said.
"If we can establish that this iron is coming from such a missile, that is important information of course," he said. "At this moment we don't know that, but that is what we are investigating."
Mr Westerbeke said any future prosecution would need to pinpoint where the missile was fired from, and who controlled that area.
Patricia Zorko, of the Dutch national police, said the investigation was also examining the recording of an intercepted conversation discussing the missile attack.
"The conversation is between rebels who allegedly shot down the plane, but we really need to authenticate it," she said.
A Dutch safety board report said this week that the plane appeared to have been struck by a number of small fragments - again supporting the theory that a surface-to-air missile was involved.
The report ruled out mechanical failure or pilot error.
'Information not shared'
Meanwhile, the boss of Emirates airlines has told the BBC that his firm would not have flown over Ukraine if it had been told that high-altitude missiles were in the area.
Sir Tim Clark said there was evidence that missiles had been on site for a number of weeks, but only some airlines - excluding Emirates - had been aware of this.
Sir Tim told BBC transport correspondent Richard Westcott that it was likely that every airline would have by-passed the danger zone if they had known.
Planes had been cleared to fly in the area as long as they stayed above a certain altitude, and a report this week highlighted the fact that three other large passenger jets were in the same area at roughly the same time as the Malaysian flight.
Sir Tim said: "Emirates did not know of that fact, and I don't think many others did. Had we known that, we would probably have reacted in a manner that would have seen a complete avoidance of Ukrainian airspace, probably as an industry."
British Airways was among several airlines that had been avoiding Ukraine for weeks. But in a recent BBC interview, the overall boss of the company, Willie Walsh, said that decision was based on information that was publicly available at the time.
Sir Tim is calling for an information "clearing house" to be set up, that can warn all airlines, quickly, if there are any new threats in an area.