Angela Merkel: Fighting anti-Semitism is German duty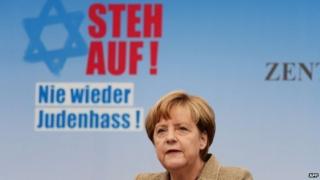 Fighting anti-Semitism is every German's duty, German Chancellor Angela Merkel has told a rally in Berlin.
The protest against anti-Semitism comes 75 years since the start of World War Two, in which six million Jews were killed by Nazi Germany.
With attacks on Jews increasing, the message to Germany and the world is "tolerance" , Mrs Merkel said.
The surge in anti-Semitism follows the summer's conflict in Gaza.
The rally at the Brandenburg Gate - under the banner "Stand Up: Jew Hatred - Never Again!" - coincided with a World Jewish Congress (WJC) meeting in the capital.
On stage, Chancellor Merkel began her speech saying the 100,000 Jews living in Germany were a "national treasure".
"Jewish friends, neighbours and colleagues, consider yourselves at home here," she told the crowd, put at up to 5,000 people.
However, because of the sharp rise in anti-Semitic attacks, she said there was "not a single Jewish institution" in the country that does not require police protection in the current climate, and it was "every German's duty" to take a stand.
"The legitimate criticism of the political actions of a government - be it ours or of the state of Israel - is fine. But if it is only used as a cloak for one's hatred against other people, hatred for Jewish people, then it is a misuse of our basic rights of freedom of opinion and assembly."
---
At the scene: Jenny Hill, BBC correspondent in Berlin
Blue and white blue banners balloons and flags fluttered under grey skies at the Brandenburg gate.
Among the thousands of people in the crowd we met a little boy called Orfeo. He's nine. Already another child at his school has told him he'd kill him because he's a Jew.
No wonder, perhaps, there are such strong feelings here.
Police kept a close eye on a handful of pro-Palestinian protesters.
It's difficult to gauge the effect of recent events in Gaza. Community leaders here say they have partially contributed to a rise in attacks on Jews in Germany. But what concerns them most, they say, is their sense that anti-semitism has become socially acceptable.
---
During the height of Israel's bombardment of Gaza in July, Germany's Jewish community condemned an "explosion of evil and violent hatred of Jews" at pro-Palestinian rallies.
Some demonstrators were reported to have shouted slogans saying "Zionists are fascists, killing children and civilians" and yelled that Jews should be "gassed".
Last week, a swastika and the words "Jews" and the Nazi slogan "Sieg Heil" were spray-painted on to a local newspaper building in the eastern city of Cottbus.