Pride and sadness: Young voters' views from Sweden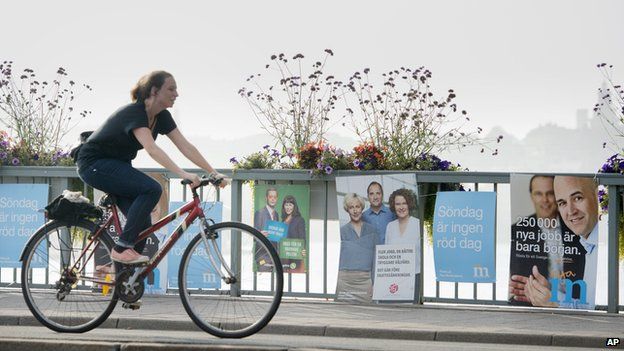 The left-of-centre Social Democrats have taken the largest share of the vote in Sweden's parliamentary election, but it was the rise of the far-right Sweden Democrats that was of interest to many of those in contact with BBC News.
Young voters, students and those participating in an election for the first time, have spoken of their surprise that an anti-immigration party took third place in the poll.
Others felt the centre-right Moderate Party had been deposed despite a strong performance in government.
Sanna Hellstroem Schmidt, medical student, Malmo
I voted yesterday, proudly, in hope of a new government, my future employer.
Today, most people in Sweden mourn. We are very proud of our immigration policy, it is a part of who we are as a people, and the election results feel like no victory when 13% of our people don't share this pride.
I sincerely hope Mr Lofven and all the other leaders in Sweden can look beyond party and voting-bloc borders and solve this without our quite scandalous anti-immigration party.
The situation feels a bit shaky but Mr Lofven hopefully set the tone yesterday, speaking of a new Sweden without influence from the far right.
But I also feel proud of all the people who protested at speeches made by the Swedish Democrats and we have shown them that 87% of the Swedish people are not interested and that we are going to fight for our own open-hearted immigration policy.
Voter turnout, parliamentary election, 14 September: 83.33%
Social Democrats 31.2%; Moderates 23.2%; Sweden Democrats 12.9%; Greens 6.8%; Centre 6.1%; Left 5.7%
Voting age population: 7,614,029
Viktor Arthuis, au pair, Stockholm/Beijing
I'm from Sweden but currently living in Beijing. This was my first election, and I was completely horrified at the results, and so were my friends from either political bloc.
The common standpoint is that no bloc won the election, only xenophobia.
What gives me some hope, though, is the fact that my generation seems to be taking this seriously, with loud protests on social media and a large political engagement.
We hope this doesn't set the political standard like it has done in other countries where anti-immigration parties have got power, and I believe the young generation will keep Sweden an open and welcoming country.
Amanda Backman, student, Lund
It saddens me to see that all the good the government has done in the last eight years is not appreciated by the majority of Swedes.
Even more, I'm appalled with the numbers the Sweden Democrats got.
I live in a country with the third biggest party being a discriminative one, which stands for inequality and oppression. It's absolutely terrifying.
Gregory Sorokours, investment consultant, Stockholm
I am surprised. The government to be led by Stefan Lovfen has not offered propositions to the long-term challenges the Swedish economy is going through - youth unemployment, improving the quality of healthcare and education.
The Moderate-led government did a good job of keeping the Swedish economy stable through the toughest global crisis since the 1930s. The opposition's focus was instead to highlight a few examples where the Moderate government failed.
Many people became confused and voted according to their personal ideology, even though the parties themselves had little chance of making an impact. Some turned toward the far right, the Swedish Democrats.
I guess I have to join a political party to make sure I do everything possible to influence the course of politics for the next election and that people vote according to logic rather than hope of a perfect society, which no government can deliver.
Written by Richard Irvine-Brown