Sean Parker: Villagers answer appeal over mystery of Irish emigrant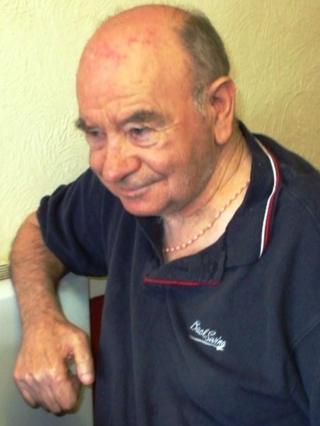 An elderly Irishman who died alone in England, with no family or friends, could be brought back to his homeland after an appeal to trace his relatives.
Sean Parker, 79, died in a care home in Medway, Kent, in July, but staff were unable to find any family to inform.
Medway Council staff faced the task of burying Mr Parker in an unmarked grave.
But following the appeal, an Irish village community believes they have traced his roots and want to bring him home, to be buried beside his mother.
'Homeless'
Mr Parker was originally from County Galway but moved to England as a teenager in the 1950s.
Like many Irish emigrants of the period, he fell on hard times and spent some time living on the streets, and at a homeless hostel in London.
The pensioner, who never married and had no children, spent the last few years of his life in a nursing home in Medway, where he died on 22 July.
When a person dies in the UK without family or friends to arrange their funeral, local authorities are forced to step in and make the arrangements, which can often include a simple ceremony and an unmarked grave.
In Mr Parker's case, the responsibility fell to Medway Council, and the ceremony was due to take place on 30 September.
However, the council's Bereavement and Registration Services manager, Paul Edwards, decided he would try to trace the pensioner's Irish relatives, before going ahead with the burial.
'Irish community spirit'
Before his death, the pensioner had given staff at the nursing home some brief details about his childhood in Ireland.
He told them he was born in County Galway on 8 February 1935 and was taught in a Catholic school.
Mr Edwards placed an obituary notice in a Galway newspaper, asking for anyone who knew the pensioner to make contact.
He said Medway Council has been overwhelmed by the interest in Mr Parker's story.
Mr Edwards credited the "Irish community spirit" for the fact that several ordinary members of the public came forward and volunteered to trace the pensioner's roots.
The obituary notice was picked up by Irish radio. It caught the attention of a number of people who remembered a Sean Parker living in Ballincurry, a townland in the village of Glinsk, County Galway.
The villagers contacted Marty Ward, a local historian and the recently retired principal of Glinsk National School, who began searching for Mr Parker's birth records.
'History repeating itself'
He made inquiries at the Republic of Ireland's General Register Office, where staff found a birth certificate for a Sean Parker who was born in Dunmore, County Galway on 7 February 1935 - just 24 hours earlier than the date the pensioner had given to the care home staff.
Mr Ward then got in contact with the parish priest, who found baptismal records for the same child - the son of a couple called John and Annie Parker.
The family moved to Ballincurry a short time later. Within the last few weeks, a retired staff member at Ballincurry National School has found attendance register details for Sean Parker, who was a pupil at the primary school from 1941 to 1946.
A few elderly people from Glinsk remembered the child's mother, Annie Parker, who died a year before her 10-year-old son left school. She was buried at Ballinakill cemetery in Glinsk in April 1945.
Mr Ward said the villagers recalled that, 70 years ago, the family did not have any transport for Mrs Parker's funeral, so local men from the neighbourhood volunteered to carry her coffin to the graveyard.
He said it felt as though "history was repeating itself" as they now wanted to show the same support for the man they believe was her son.
'Powerful symbol'
Mr Ward added that the issue of emigration continued to resonate strongly with communities in the west of Ireland.
He said he took inspiration from the former Irish president, Mary Robinson. She famously placed a candle in the window of the presidential mansion in Dublin to remember the Irish Diaspora, many of whom were forced to leave Ireland because of hardship at home.
Mr Ward said she had left behind a "powerful symbol" and added that helping to repatriate Mr Parker was one "practical way" that his community could show their support for Irish emigrants abroad.
The community in Glinsk is discussing ways to raise funds to transport Mr Parker's body from Kent, and so far, three firms of undertakers have offered their services free of charge. One of the firms is based in England, the other two are in County Galway.
Arrangements for the repatriation are still at a very early stage, and the Medway Bereavement and Registration Services manager said the case was a "completely new" experience for them.
Mr Edwards said the simple ceremony in Medway is still pencilled into his diary for 30 September, and two local women of Irish descent have since contacted the council saying they will attend the funeral if required.
However, the manager said he would much prefer to repatriate Mr Parker and would do "the best we can" to reunite him with his own family in Ireland.