Turkey mulls 'buffer zone' against Islamic State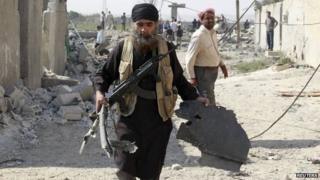 Turkey is developing plans for a buffer zone on its border with Iraq and Syria, to counter the threat from Islamic State militants, its president says.
Recep Tayyip Erdogan told Turkish media the military were working on the plans, which he would then decide on.
He gave no further details about where the buffer zone could be established or how it would work.
IS has seized large areas of Iraq and Syria. Estimates say the group could have up to 30,000 fighters.
"The armed forces are working on plans and will present them to us. We will decide if it is necessary," Mr Erdogan told Turkish media, after being asked about a possible buffer zone.
Thirty countries have pledged to help combat IS militants "by all means necessary", with several Arab countries offering to take part in air strikes on IS fighters in Iraq.
Turkey, however, says it will only allow humanitarian and logistical operations from the Nato air base on its soil.
It is reluctant to take a prominent role for fear of endangering 49 of its citizens being held hostage by IS.
There are also at least 840,000 Syrian refugees registered in Turkey.
Brotherhood welcomed
Separately, Mr Erdogan said Turkey would allow exiled members of Egypt's Muslim Brotherhood group into Turkey.
Many leaders of the movement, which has been outlawed in Egypt, are currently based in Qatar.
However, the group's presence in Qatar has strained Egypt-Qatar ties, and Muslim Brotherhood leaders say they are now under pressure to leave the country.
"If they make any request to come to Turkey, we will review their request," Mr Erdogan told Turkish media.
"If there aren't any obstacles, they would be granted the ease that is granted to everyone."
Egyptian authorities have cracked down harshly on Islamists since the ousting of President Mohammed Morsi, who belonged to the Muslim Brotherhood, last year.
Several Muslim Brotherhood leaders, as well as hundreds of ordinary members, have been sentenced to death for charges including murder and inciting violence at protests.