Hayes Hotel in Thurles where GAA founded sold at auction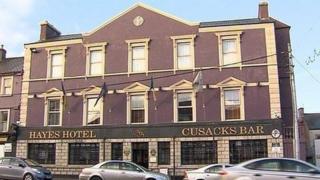 The hotel where the Gaelic Athletic Association (GAA) was founded in 1884 has been sold at auction.
Hayes Hotel in Thurles, County Tipperary, was sold for 650,000 euros.
It has 30 bedrooms, a bar and two nightclubs, and had been on the market for some time.
Located at Liberty Square, the hotel dates to the 18th century. It was known as the Commercial Hotel at the time the GAA was founded.
The winning bid at the Allsop Space Property Auction in Dublin was made by a solicitor acting for an unnamed client.