France deadly storms at Herault camping site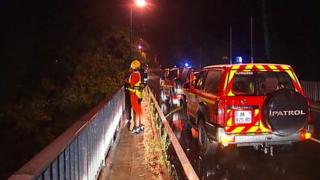 Five people have been killed after a flash flood at a camp site in Herault in southern France.
Initial reports said a man and two women had died and two more women were missing as violent storms battered a large area of the south.
A small river that runs along the Lamalou-les-Bains site burst its banks in the early hours of Thursday, sweeping up caravans and motor homes.
Earlier, a woman died after falling into a swollen river further north.
Emergency services have had to rescue hundreds of people in the Herault as well as the neighbouring Gard and Aveyron areas.
But no evacuation was carried out at the Lamalou-des-Bains site before the river burst its banks. Officials said there were hundreds of camp sites in the region and such storms were quite normal.
Herault official Frederic Loiseau told French TV that torrential rains had created a sudden surge of waters in the river that eventually burst through debris such as trees and branches and on to the camp site.
"A sort of torrent appeared inside the camp site and swept away the caravans and motor homes," he said.