Nicolas Sarkozy's political comeback ahead of 2017 poll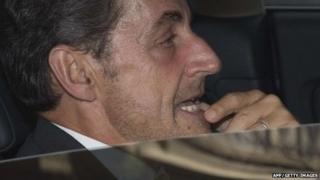 The return of Nicolas Sarkozy will reinvigorate French politics, and marks the start of what promises to be an exciting countdown to the next presidential election in 2017.
There is no certainty, but it now looks more than likely that Mr Sarkozy will take the reins of the centre-right opposition UMP party when it holds its leadership contest in November.
If that happens, then an opposition that has been toothless since the last election might finally start to bite.
But ironically there is another potential beneficiary from a "Sarko revival", and that is his arch-rival President Francois Hollande.
The speed and glee with which the ruling party reacted to news of the ex-president's comeback show how much it needs its primary hate figure.
An unpopular, faction-ridden government can at last unite against a man whose return - ministers know well - will provoke more dismay than delight among many voters.
Because two-and-a-half years after he stepped back from the fray, the country remains as divided as ever about their one-time leader.
A new choice
Many are seduced by Mr Sarkozy's undoubted energy.
Set against the lacklustre, dumpy Francois Hollande, Mr Sarkozy's lean frame and thrusting manner suggest determination and authority.
In the popular imagination, that is what French heads of state - like France itself - are intended to project.
In his Facebook announcement, the former president is merciless towards the Hollande government, describing the "desperate spectacle" to which it has reduced the country, and the "inexorable tide of confusion, rejection and anger" which has engulfed the people of France.
If he has decided to break his promise to stay out of politics, he says, it is because not to do so would be a "dereliction of duty".
He says that he has had time to reflect about his five-year presidency, implying that he knows he did some things wrong.
The party he wants to build from inside the UMP will be a "new political choice" for the French, he adds.
A "formation for the 21st Century" that will transcend "traditional political divisions that have no meaning today".
So Sarkozy Mark Two has the hallmarks of Sarkozy Mark One - urgency, passion, devotion - plus a touch of self-awareness to suggest he has learned from the past.
His difficulty is that many French, even those who might sympathise with him, will be thinking: "Haven't we seen all this before?"
A successful comeback?
In 2007 a much younger Nicolas Sarkozy ran for office on the promise of "la rupture" - in other words, a clean break from the wishy-washy politics of compromise and decline.
For reasons which are disputed, the rupture never happened.
France's national debt continued to rise, labour laws were not reformed, nor was there any burst of transformative energy to restore France to its leading position in the world.
So why, many people will be tempted to ask, should we trust Nicolas Sarkozy this time around? Does he really have new ideas for economic reform? If so, what are they?
Is he sincere when he says he cannot abandon the French in their current abject state, but must rush to their rescue.
Or is he just in love with power, money and fame?
Or worse, some will ask: maybe by returning to the presidency, is he merely trying to elude the numerous judicial enquiries that dog him?
Exactly 200 years ago another small French leader famously started a comeback. The exiled Napoleon began what his supporters called the "Hundred Days" campaign, marking his journey back from exile on the island of Elba to Paris in 1814.
If Nicolas Sarkozy can pull it off as national saviour redux, it will be a remarkable feat.
Napoleon never did.