Court to hear Berlusconi tax fraud appeal - lawyer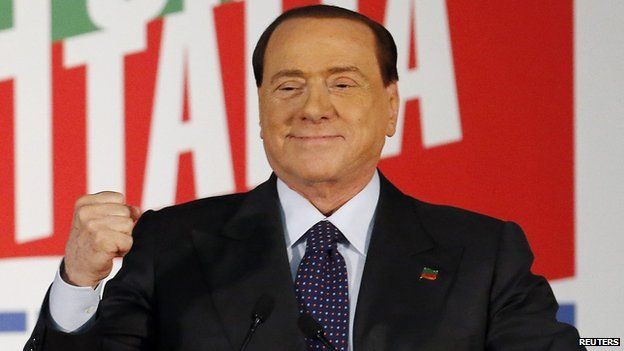 The European Court for Human Rights (ECHR) has agreed to hear an appeal by former Italian Prime Minister Silvio Berlusconi against a tax fraud conviction, his lawyer says.
The 2012 conviction cost Berlusconi his seat in the Italian Senate and saw him banned from public office.
He is currently serving community service for the conviction.
One of Italy's richest men, the three-time prime minister dominated Italian politics and media for decades.
He still heads the right-wing Forza Italia party and has been involved in efforts by the current prime minister, Matteo Renzi, to reform the constitution.
Berlusconi's lawyer, Piero Longo, said the ECHR had agreed to examine claims that the 2012 trial was unfair.
The 77-year-old was convicted of artificially inflating prices of film distribution rights bought by his company, Mediaset, to avoid taxes.
Mr Longo said there had not yet been a date set for the appeal.
Several other legal objections raised by Berlusconi have been rejected by the Strasbourg-based ECHR in recent months.
He was initially sentenced to four years in prison for the fraud, but this was later commuted to one year of community service, which he started in May.
As part of that service, Berlusconi helps out once a week at a home for people with Alzheimer's disease.