Ukraine conflict: Wounded soldiers face new battle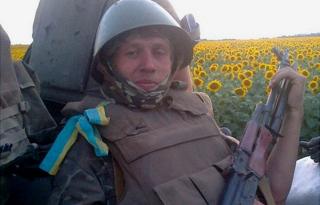 Ukrainian soldier Serhiy Hordiychuk divides his life into what came before and what came after Monday 4 August.
The father of two had been fighting pro-Russian separatists in the Donbass region of eastern Ukraine and on that day his unit was near the village of Marynivka in the south-east, 4km (2.5 miles) from the Russian border.
Suddenly he and his comrades came under heavy shelling from Grad rockets. He says they were fired from behind the border.
He was severely wounded and lost his left arm.
He is now home waiting for his stump to heal enough so that he can be fitted with a custom-made, artificial arm known as a myoelectric limb, which detects electric signals generated by muscles when they contract.
The limb itself costs 22,000 euros (£17,000; $28,000) and should take up to three months to fit. But for a builder, whose average monthly income is 200 euros, this sum is barely affordable.
The government can cover around 16% of the money required. That would be enough only for an outdated artificial arm with limited functions.
Instead, government support is largely confined to providing the wounded with free medical care.
Expensive prostheses are not part of the budget, says Nataliya Yusupova, a volunteer from Kiev helping to raise money for Serhiy and other injured soldiers.
Hundreds of thousands of euros have passed through her hands in the past few months, she says, mostly donations from ordinary Ukrainians.
"It is Ukrainians who provide clothes and medical treatment for our soldiers, as well as raise funds for prostheses," she says.
"So far I haven't witnessed a single case when the government would pay [for an up-to-date prosthesis]. They are young boys. They don't want just a stick to move around. They want to feel like normal."
The state budget is exhausted by the war in the east, but it is not the only obstacle to proper care for the wounded, volunteers say.
'Circles of hell'
Two of the other biggest problems are corruption and red tape.
Oleksandr Morozov from the Rehabilitation Centre of Afghan War Veterans, is particularly critical of the level of corruption still endemic in Ukraine.
"We can say that we have weeded out all those who made our lives fall apart, but it's not really true," he says.
To get money from the state, an injured soldier like Serhiy has to endure "all the circles of bureaucratic hell", says Oleksiy Krasnoshchokov, from Ukrainian volunteer network pidmoga.info. He has used prosthetic limbs for years.
Without Serhiy collecting hard copies of documents from various institutions, the government will not pay 16% of the cost, about 3,000 euros.
He needs to get hold of documents to prove
he was a soldier
he was wounded
he requires a particular kind of prosthesis
and he needs to come up with excerpts from relevant military orders
Ukraine's ministry of social policy told the BBC in a statement that all its procedures were according to the law.
"The disabled receive rehabilitation devices upon submitting an individual application, and the state gives money to buy these devices," the statement said.
But activists find this explanation hard to believe.
Serhiy Hordiychuk himself is reluctant to talk about what has happened to him and about the documents he needs to receive his government funding.
When asked how he feels about the government, which first sent him to the war and now will not pay for his lost arm, Serhiy says: "What can I say? It looks like no-one is to blame."
Pausing for a moment, he then explains: "Honestly I have never relied too much on the government. I just take it as it comes."