Ukraine crisis: Military to pull back artillery in east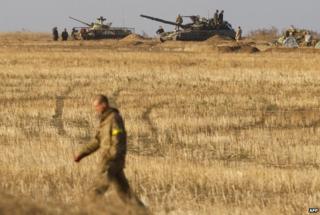 Ukraine is preparing to withdraw heavy weaponry away from separatist rebel lines in the east, the military says.
The two sides agreed on Saturday to set up a buffer zone in eastern Ukraine, more than a fortnight after a shaky ceasefire came into force.
Although the truce is still in place, clashes have continued around the cities of Donetsk and Mariupol.
More than 3,000 people have died since fighting broke out in the two regions of Donetsk and Luhansk in April.
Ukraine's parliament passed a bill last week granting three-year "self-rule" to parts of the Donetsk and Luhansk regions - a decision condemned by some MPs as "capitulation".
'Foreign mercenaries'
Under the terms of the nine-point deal agreed in Belarus, both the pro-Russian rebels and Ukrainian forces are to pull back their heavy artillery 15km (9.5 miles) from the line of engagement, creating a 30km buffer zone.
Ukrainian National Security and Defence Council spokesman Col Andriy Lysenko said pro-Russian rebels had for their part begun moving their heavy artillery, but it was "not as massive as we expected".
Artillery and armoured vehicles with a calibre greater than 100mm would be moved, but all other units and their weapons would remain in place, he said.
According to the deal, military aircraft are banned from flying over the conflict zone and "foreign mercenaries" are to be withdrawn on both sides.
Foreigners are known to be fighting on both sides and Russia has repeatedly insisted that any of its citizens fighting alongside separatists in Ukraine are doing so in a private capacity.
Checkpoints manned by Ukrainian forces had come under heavy shelling at Donetsk airport and near Mariupol, Ukrainian media reported on Monday.
Col Lysenko said that two servicemen had been killed in the past day.
---
Minsk memorandum: Key points
To pull heavy weaponry 15km by each side from the line of contact, creating a 30km security zone
To ban offensive operations
To ban flights by combat aircraft over the security zone
To set up an OSCE monitoring mission
To withdraw all foreign mercenaries from the conflict zone
---