Tipping point for Turkey with large influx of Syrian Kurds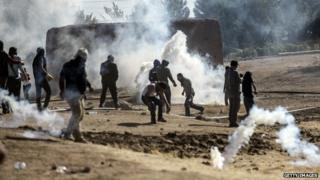 In the last three days alone, more than 130,000 Syrian refugees have fled into neighbouring Turkey, running away from advancing militants calling themselves Islamic State, towards Kobane - a strategic border town between Turkey and Syria.
Turkey already hosts more than a million Syrian refugees, which is not only putting a burden on the country financially but also causing tension within local communities.
However the recent influx makes things even more complicated for Turkey. The refugees coming across the border in increasing numbers are no ordinary Syrians from Turkey's perspective - they are Syrian Kurds.
Turkey has fought a civil war with Kurdish guerrillas in the south-east of the country for nearly 30 years, costing more than 40,000 lives on both sides.
Negotiations between the Kurdish guerrilla group, PKK, and Turkish intelligence services have been going on and off for years. A ceasefire is in place.
That fragile peace process is now somehow tied to what is happening across the border, leaving Turkey facing a dilemma: Will it keep its borders open to more Kurds escaping Islamic State due to humanitarian grounds?
If it does, how will the increasing numbers in the Kurdish population change the dynamics within the country? If it closes the border, will the peace process be harmed?
Youth call to arms
Islamic State has seized more than 60 villages around Kobane since Tuesday, using heavy arms and thousands of fighters.
Syrian Kurdish forces - the YPG or People's Protection Units, who are said to be affiliated with the PKK - are fighting against IS, trying to halt their offensive.
On its website, the PKK released a statement on Sunday, calling on Kurdish youth in Turkey to take up arms against IS in Kobane.
"The youth of North Kurdistan (south-east Turkey) must flow in waves to Kobane," it said.
That call was repeated today, the pro-Kurdish news agency Firat reported, as the PKK called for "mobilisation," saying, "the day of glory and honour has arrived".
Pro-Kurdish politicians in Turkey are making similar calls too.
The leader of the Peoples' Democratic Party (HDP), Selahattin Demirtas, who is currently in Washington to hold talks with US officials, warned of a repeat of what happened in Sinjar last month when thousands of Yazidis faced a massacre.
"If the international forces and Turkey are remaining so silent, then young people - whether Turks, Kurds, Alevis, or Sunnis - should be able to go and resist against the IS barbarism at Kobane," he said.
Such calls will be hard to resist for the Kurdish youth who feel an emotional duty to save their fellow Kurds from what they perceive could be yet another massacre they will have to endure.
This is precisely why clashes have been taking place on the Turkish side of the border for the last two days.
Many argue that Turkey fears those who cross into Syria will join Kurdish militias and that is one of the reasons it decided to close some of its border crossings to Kobane - which led to scuffles between Kurds and Turkish security forces.
With 30 countries already pledging to contribute to the fight against IS, Turkey wants to make sure that the PKK does not emerge as the winner of this war.
However fighting against IS will most probably be the main prerequisite of the Kurds for the peace process in Turkey to continue.
Now that 46 Turkish citizens held by Islamic State have just been released, many Kurds think Turkey has no excuse not to get involved.
Turkey needs to strike a delicate balancing act.