Spain abortion: Rajoy scraps tighter law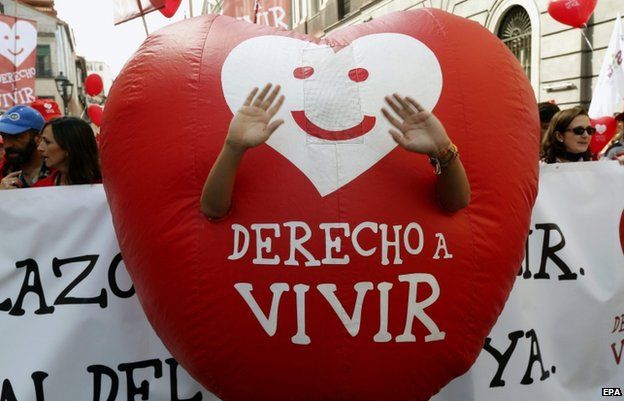 Spanish PM Mariano Rajoy has dropped plans to limit abortion to cases of rape or where the mother's health is at serious risk.
The proposals had drawn widespread opposition and prompted dissent in Mr Rajoy's Popular Party, despite being part of its election programme in 2011.
The government will instead seek to stop 16 and 17-year-olds having an abortion without parental consent.
Abortion is legal in Spain in the first 14 weeks of a woman's pregnancy.
It was first legalised in 1985 in cases of rape or physical damage to the mother or child.
The scope of the law was broadened in 2010 by the last, socialist government and allowed abortion up to 22 weeks in cases of foetal deformities.
The Popular Party (PP) had planned to roll back the changes - and one of the most controversial elements of the planned reform was to prevent women from aborting in cases of serious foetal abnormalities.
Shortly after Mr Rajoy announced the government's decision to row back on the planned reforms, the architect of the bill, Alberto Ruiz-Gallardon, announced his resignation as justice minister.
He said he was not the right man to push through the revised legislation and was leaving politics after a 30-year career.
Spain is a mainly Catholic country and many PP supporters are practising Catholics, but the bill has deeply divided the party.
Although reform to the 2010 abortion law was a key part of its election manifesto, the government took two years to draw up proposals.
"As president of the government, I have taken the most sensible decision," the prime minister told reporters in Madrid on Tuesday.
"We'll continue working towards cohesion but we cannot have a law which will just change when the next government comes in."
The proposals had led to large street protests, but thousands of people attended an anti-abortion demonstration in Madrid at the weekend.
Anti-abortion campaigners say the 2010 reforms have led to 300 abortions per day, but government figures last year indicated the numbers fell after the law took effect.
Mr Rajoy acknowledged that abortion was an issue that affected the "profound and personal convictions of all citizens".