Turkey hints at Iraq Mosul hostage exchange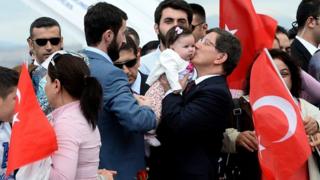 Turkish President Recep Tayyip Erdogan has hinted that 49 hostages, mostly Turks, may have been freed by Islamic State (IS) as part of a prisoner swap.
They were freed on Saturday, and Hurriyet newspaper reported that 50 IS members were released by Syrian rebel group Liwa al-Tawhid on the same day.
Mr Erdogan told reporters: "You might have an exchange but it takes some effort to prepare for such a thing."
The Turkish hostages were seized in northern Iraq and held for 101 days.
Turkey is currently struggling to cope with an influx of 138,000 Syrians, most of them Kurds, fleeing an Islamic State offensive in the northern city of Kobane. UN refugee officials have warned that number could surge to 400,000.
The government in Ankara had refused to take part in the air campaign against IS, which has now been extended to Syria as well as Iraq, partly because of fears for the safety of the hostages.
The hostages were taken prisoner from the Turkish consulate in Mosul in June. They were moved by IS at the start of September to Raqqa in northern Syria, before being released on Saturday at Tel Abyad near the Turkish border.
The 49, who included the Turkish consul, diplomats, special forces police, children and three Iraqis, were later greeted by flag-waving crowds in the capital, Ankara.
Little explanation was given for their release but Prime Minister Ahmet Davutoglu said Turkey's MIT intelligence agency had led the operation.
In its report on Tuesday, Hurriyet said the wife and children of Islamic State leader Haji Bakr, who was killed in Aleppo in February, were among the prisoners freed by Liwa al-Tawhid.
The Syrian rebel group split from the military wing of the Free Syrian Army (FSA) and helped form the hardline Islamic Front.
When asked in New York late on Monday about reports of an exchange for IS prisoners held by Syrian rebels, Mr Erdogan said he would not speak publicly about the work of intelligence agencies but did come close to acknowledging the reports of a prisoner swap.
"Some say that maybe there has been an exchange," he said.
"You might have an exchange but it also takes some effort to prepare for such a thing. And efforts have been made and thankfully no harm has been done to any one of the 49 people."
He pointed out that Israel had secured the release of one hostage in return for more than 1,000 Palestinian prisoners, an apparent reference to the release of Israeli soldier Gilad Shalit in 2011 after five years in captivity in Gaza.
When more than 30 Turkish lorry drivers - who were also seized in Mosul in June - were freed the following month, Turkish authorities also declined to give details of their release.