'Major cocaine find' off Irish coast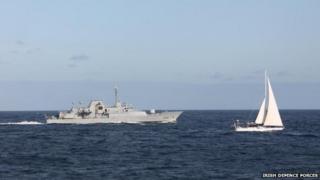 The Irish authorities have intercepted a major cocaine shipment, estimated to be worth up to 80m euros, (£63m) off the Cork coast, it has been reported.
About a tonne of suspected cocaine was seized from an 18m yacht, according to Irish state broadcaster, RTÉ
The Irish Defence Forces confirmed a "significant quantity of suspected controlled drugs" was seized 200/300 miles west/south-west of Mizen Head.
But a spokeswoman said they could not yet comment on the quantity and type.
International intelligence
If confirmed, the cocaine find would be one of the biggest drugs seizures at sea in Europe this year.
The yacht, called Makayabella, was detained along with its three crew members during the early hours of Tuesday.
The Joint Task Force (JTF) operation was led by the Irish Revenue Customs Service, supported by the Irish Naval Service and police (An Garda Síochána).
They were acting on intelligence provided by the National Crime Agency in the UK and the French customs service DNRED.
'Covert surveillance'
Two Irish naval vessels, the LÉ Niamh and the LÉ Roisin, were involved in the operation.
"The LÉ Niamh, supported by LÉ Roisin, positively identified a suspect vessel in a covert surveillance operation," the Irish Defence Forces statement said.
"The decision was made by the JTF situated in the Naval Operations Command Centre in Haulbowline to deploy an armed naval boarding party, which resulted in the successful detention by Revenue's Customs Service of the yacht, suspected contraband and the crew of three," it added.
The operation off Mizen Head concluded on Wednesday afternoon.
Naval vessels are currently escorting the yacht to an Irish port, where tests will be carried out on the suspected cocaine.