Cork cocaine haul: Four men arrested over £63m drug seizure off Irish coast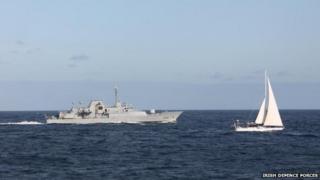 Four men have been arrested after a tonne of cocaine with a street value of 80m euros (£63m) was seized off the south west coast of the Republic of Ireland.
Irish authorities intercepted the shipment off the Cork coast on Tuesday. Detectives are preparing to question three men in Cork.
A fourth man was later arrested in Leeds, West Yorkshire.
The haul is one of the biggest drugs seizures at sea in Europe this year.
It was taken from the 18m yacht, Makayabella, about 300 miles west/south-west of Mizen Head.
The Irish Defence Forces confirmed a "significant quantity of suspected controlled drugs" was seized. But a spokeswoman said they could not yet comment on the quantity and type.
The man arrested in England is 43. In a statement, the UK National Crime Agency said its officers, assisted by West Yorkshire police, had arrested at an address in Leeds, on suspicion of conspiring to import Class A drugs.
He has been bailed pending further inquiries.
Security sources said the plot involved landing the consignment on the north Wales coast.
International intelligence
The Joint Task Force (JTF) operation was led by the Irish Revenue Customs Service, supported by the Irish Naval Service and police (An Garda Síochána).
They were acting on intelligence provided by the National Crime Agency in the UK and the French customs service DNRED.
Two Irish naval vessels, the LÉ Niamh and the LÉ Roisin, were involved in the operation.
"The LÉ Niamh, supported by LÉ Roisin, positively identified a suspect vessel in a covert surveillance operation," the Irish Defence Forces statement said.
"The decision was made by the JTF situated in the naval operations command centre in Haulbowline to deploy an armed naval boarding party, which resulted in the successful detention by Revenue's Customs Service of the yacht, suspected contraband and the crew of three," it added.
'Covert surveillance'
The yacht, with its cargo of cocaine, arrived at naval service headquarters in Cork harbour at 23:00 BST on Wednesday, escorted by the naval vessel, LÉ Roisin.
A detailed examination of the yacht is due to be carried out.
It was boarded under cover of darkness early on Tuesday. It is understood that the crew did not resist.
The shipment is understood to have originated in South America, while the yacht set sail from the Caribbean.
It is not known at this stage if the drugs were due to be landed in Ireland for movement to the UK or if they were due to be brought ashore in the UK directly.
The vessel is believed to be in poor condition following its transatlantic crossing.