First Russian woman in International Space Station mission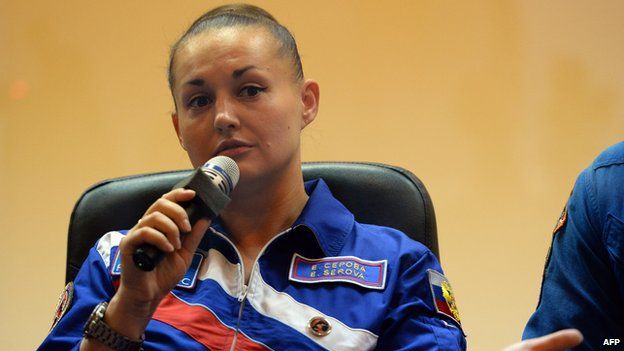 Russia has sent a woman into space for the first time in 17 years as part of a joint US-Russian mission to the International Space Station (ISS).
Yelena Serova and two male colleagues, an American and a Russian, docked with the ISS six hours after blasting off from Kazakhstan in a Soyuz spacecraft.
Ms Serova is only the fourth female Russian cosmonaut to enter space, and is the first to fly to the ISS.
The 38-year-old engineer has spent seven years training for the role.
The team is due to spend six months on board the ISS.
At a news conference before lift-off on Friday, Ms Serova was forced to respond to questions about how she would look after her hair on board the space station.
"Can I ask a question, too?" she replied, flanked by her male counterparts. "Aren't you interested in the hair styles of my colleagues?"
She has fielded similar questions before and reportedly offered to give a demonstration of how she intends to wash her hair on board.
Ms Serova was also asked about how her 11-year-old daughter would cope with her six-month absence. She stressed, however, that this was her job.
"I'll be the first Russian woman who will fly to the ISS. I feel a huge responsibility towards the people who taught and trained us, and I want to tell them that we won't let you down" she said.
The last female astronaut on the ISS was the American Karen Nyberg who was in orbit for six months in 2013.
Russia was the first country to send a woman into space, when Valentina Tereshkova blasted off in 1963.
The mission to the ISS comes amid increased tensions between the US and Russia over the Russian annexation of Crimea and its support of separatist rebels in eastern Ukraine.