German police probe abuse at Burbach asylum centre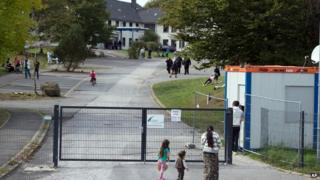 Police in Germany are investigating reports refugees were repeatedly abused by security guards at an asylum centre.
According to the AP news agency, police raided the centre in the western town of Burbach after a local journalist received a DVD allegedly showing guards abusing an asylum seeker.
Detectives have released a photo which they say came from one security officer's mobile phone.
The image is said to show a guard assaulting a refugee.
In the picture, the handcuffed refugee lies on the floor while the guard stands over him pressing his boot into his neck.
Another guard stands nearby as both appear to pose for the picture, which has been widely circulated in the German press.
"It's a photo one would associate with Guantanamo Bay," one police officer was quoted as saying. "Both security guards are grinning."
'Xenophobic motives'
Police say other people living at the centre have made complaints about abuse and that all security staff there - employed by a private company - have been withdrawn from the asylum centre. They have been replaced by staff from the security company Stoelting.
The German government has also implemented a seven-point plan to improve the running of asylum centres. Under the new scheme, companies will have to prove that their guards are certified and that enough psychologists are employed at the centres.
Detectives are said to be investigating "xenophobic motives" at Burbach.
The image from the mobile phone has caused widespread outrage in Germany.
The popular newspaper Bild ran the picture under a headline "beaten, humiliated, tortured!"
German broadcaster Deutsche Welle commented that the image was akin to those taken by US soldiers torturing Iraqi inmates at Abu Ghraib prison in 2004.
But there is concern - and sometimes hostility - here too about the rising number of asylum seekers.
Germany receives more applications for asylum than any other industrialised country - and the numbers are rising sharply as thousands flee war-torn countries like Syria.
In a controversial move last week, politicians declared the western Balkans officially safe - meaning asylum applications from those countries are now automatically rejected.