Belgium tries 46 over Syria jihadist links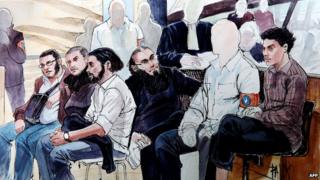 Forty-six people have gone on trial in Antwerp on charges of belonging to a group that sent jihadists to Syria, the largest case of its kind in Belgium.
Prosecutors say the Sharia4Belgium organisation sent recruits to militant groups such as Islamic State (IS).
Only eight of the accused appeared in court. The rest are thought to be on the frontline - or dead - in Syria.
European governments are increasingly worried about the risks posed by their citizens fighting in Syria and Iraq.
IS militants spearheaded an assault across northern Iraq this summer, adding a belt of territory there to the areas under their control in Syria.
The US, and its European and Arab allies, have responded with air strikes on IS-held territory.
More than 3,000 European Muslims are thought to have gone to Iraq and Syria to fight for IS and groups that share its ideology, such as al-Qaeda-allied Jabhat al-Nusra.
European security agencies fear that jihadists who return from those countries could mount attacks on domestic targets.
Officials estimate that up to 400 Belgian nationals have gone to fight in Syria. Of these, about 10% are thought to have links to Sharia4Belgium.
The group's alleged leader, Fouad Belkacem, was among those who appeared at the court in Antwerp on Monday.
Though he is not thought to have travelled to Syria himself, investigators say he inspired others to go there.
If found guilty, he could face up to 20 years in prison.
Defence lawyers are expected to make their statements on Tuesday.
Mr Belkacem has denied the charges against him, saying in an open letter to the press that he had "never recruited, incited or sent" fighters to Syria.
Sixteen of the 46 accused are charged with leading Sharia4Belgium, with the remaining 30 said to be members of the group.
The group was formed in 2010 with the professed aim of introducing Islamic law in Belgium. It disbanded two years later - although the authorities suspect it continued recruiting fighters for Syria.
The Belgian authorities hope this trial will serve as a deterrent for other young Muslims, says the BBC's Chris Morris in Brussels.
Belgium has the highest number of jihadist recruits per capita of any western European country, according to the London-based International Centre for the Study of Radicalisation and Political Violence (ICSR).