Dhara Kivlehan: Inquest told of deficiencies in hospital care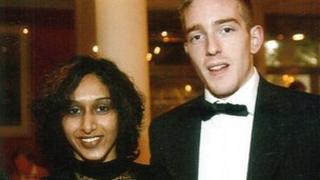 An expert witness has told an inquest into the death of a woman who became seriously ill after giving birth that there were deficiencies in her care.
Dr Peter Boylan, a former master of the National Maternity Hospital in Dublin, was appearing at the inquest into the death of Dhara Kivlehan in 2012.
Ms Kivlehan died in Belfast as a result of multi-organ failure after giving birth at Sligo General Hospital.
Last year, the Irish Health Service Executive apologised to her family.
Dr Boylan told the inquest that Ms Kivlehan had developed partial HELLP Syndrome, a severe strain of pre-eclampsia.
He said she remained seriously ill following the delivery of her baby by emergency Caesarean section.
He added that Ms Kivlehan presented a very difficult management problem, but he said her distended stomach was misinterpreted as fluid build-up linked to liver failure.
'Debatable'
He said it appeared that nobody considered the likelihood of what he called intra-abdominal bleeding, particularly following her surgery.
Dr Boylan said had this problem been recognised and dealt with, and an earlier transfer organised to a specialist centre, then it is possible the outcome would have been different.
However, he added that it was debatable as to whether early intervention would have made a difference due to the complicated nature of Ms Kivlehan's condition.
He also said that he was not blaming doctors at Sligo General Hospital. Dr Boylan told the inquest that a woman in Ms Kivelan's condition should have been treated by a senior obstetrics consultant, but that few exist in Ireland.