Donetsk airport shelling violates east Ukraine truce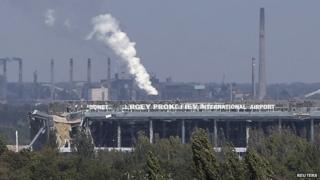 Officials in eastern Ukraine say artillery is pounding the Donetsk airport area, where Ukrainian troops are resisting pro-Russian separatists.
The fighting comes despite the 5 September ceasefire agreement, which has been holding in most other areas.
Ukrainian media say the rebels fired Grad rockets at Ukrainian positions at the airport. The rebels say they fired back in response to mortar fire.
Grad rocket fire was also reported in Popasna, a town in Luhansk region.
The Popasna attack killed several people and wounded others, Luhansk regional governor Hennadiy Moskal said. The town lies in Ukrainian-held territory west of Luhansk, a city held by separatists.
The rebels denied using Grad rockets there.
In a statement to Russia's Ria Novosti news agency, the Donetsk rebel leader, Alexander Zakharchenko, said his forces had opened fire on Tuesday only after Ukrainian troops at the airport "started shelling Donetsk". The city itself is still in rebel hands.
A Ukrainian military spokesman, Vladyslav Seleznyov, said the rebels had started shelling Ukrainian positions at the airport at 06:15 (03:15 GMT).
Reports on Monday said seven Ukrainian soldiers were killed in a clash with rebels near the airport.
A tank shell hit the vehicle carrying the troops, an official said.
Russia denies Western allegations that it has armed the rebels and sent troops into the Donetsk and Luhansk regions. At least 3,200 people have died in fighting since April and thousands of civilians have fled the conflict.
Russia annexed Ukraine's Crimea peninsula in March - a move condemned by Ukraine and the West.
The European Union and the US later imposed sanctions against Russia over its role in the Ukraine conflict.
Last week, Ukrainian President Petro Poroshenko said the "most dangerous" part of the crisis in the east had passed, predicting that his peace deal with the pro-Russian rebels would hold.
There have been some prisoner exchanges during the ceasefire, but the continuing shelling has hampered the creation of buffer zones between the combatants' lines.