Sacristan Declan Hanratty on 10th day of fast in protest at his church closure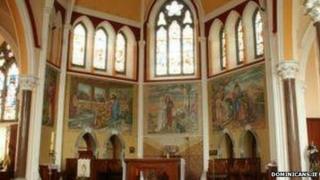 Sacristan Declan Hanratty is on the 10th day of a fast to protest against the threatened closure of his Dominican church.
St Magdalen's, in Drogheda, may have to close because of a shortage of Dominicans to run the community.
It is part of a wider problem the order is facing.
The Dominican provincial council, who will decide the church's fate, said they were still in a process of consultation.
Mr Hanratty had his last meal on Sunday 21 September, and has only had water since.
'Standing room only'
Mrs Rita Hanratty, his wife, spoke to the BBC on behalf of her husband who is suffering from head pains, weakness and dizziness.
"If they'd wanted to close us two years ago, we'd have gone along with it," she said, but claimed that for the last 10 months the church had been revitalised.
"The Saturday vigil mass is full. It's standing room only, and there's a few hundred on Sundays," she added.
The church is one of the oldest Dominican sites in Ireland. It was founded in 1224 and holds around 500.
'Great Sadness'
Father Bernard Treacy of the Dominican provincial council said the order was facing a shortage of manpower.
"Dominicans work in communities, ideally of six. In Ireland we only have 51 under retirement age, but we have 19 sites.
"We can't staff all the centres."
Father Treacy went on to say he felt: "great sadness" over Mr Hanratty's actions, but said no decision had been taken over the fate of St Magdalen, and that the consultation process would consider "every submission from all stakeholders".
While Mr Hanratty's condition weakens, the consultation process has no deadline, and may go on for many months.
Mrs Hanratty said: "We just hope the provincial council will come together and reconsider. This is is a viable church."