Cyprus Degas theft: Painting taken from safe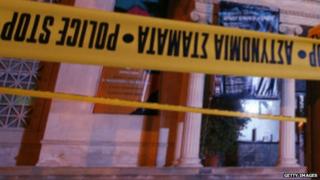 Thieves have broken into the Cyprus home of a 70-year-man and stolen a painting by French master Edgar Degas valued at 6m euros ($7.6m; £4.7m).
The artwork, Ballerina Adjusting Her Slipper, was taken from the elderly man's home in Limassol.
It was not insured, according to a police spokeswoman.
Officers said they had arrested a 44-year-old Greek Cypriot in connection with the case and were seeking two other suspects.
The accomplices were believed to be a South African and a Russian, they added, and the trio probably knew their victim.
The artwork was reportedly taken from a metal safe.
It was one of a number of studies that Degas - a key figure of the Impressionist movement - made between 1873 and 1874 which featured dancers in a variety of poses.
The artist's work routinely sells for millions of pounds.