Catalans vow to hold referendum on independence from Spain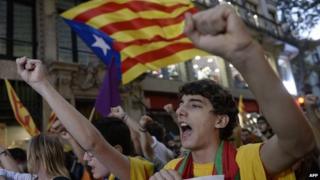 Leaders in Catalonia have agreed to push ahead with a referendum on independence on 9 November, defying legal blocks by the Spanish government.
A regional spokesman said they would press ahead so that "citizens can exercise their right to vote".
Spain's constitutional court said on Monday it would review the legality of the ballot, effectively suspending it.
Spain says it will go back to the court to seek a ban on the commission set up to supervise the referendum.
The commission was set up on Thursday by the leader of Catalonia, Artur Mas.
And on Friday, Mr Mas and the representatives of the four parliamentary groups that support self-determination reiterated their intention to press ahead.
'Not compatible'
Catalonia's 7.5 million inhabitants make up approximately 16% of the Spanish population.
It is one of Spain's richest and most highly industrialised regions, as well as one of its most independent-minded.
The Catalan capital of Barcelona is home to some of Spain's biggest companies, which are anxiously watching developments.
Mr Mas signed a decree last Saturday calling for the referendum.
But Spanish Prime Minister Mariano Rajoy said that the vote was not "compatible with the Spanish constitution".
"Nobody and nothing will be allowed to break up Spain," he said.
Mr Mas insists he can use local laws to hold the vote.
Correspondents say Catalans are unhappy at Spain's refusal to give them more powers and have been energised by Scotland's recent independence referendum.
Many pro-independence activists have been seen waving the Scottish flag alongside the flag of Catalonia.
Spain's deepening economic crisis has also seen a surge in support for separation.