Runaway cow and calf rescued from County Meath island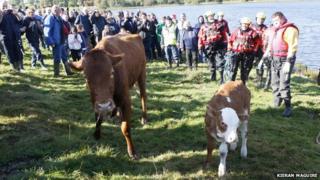 A runaway cow in the Republic of Ireland has turned up safe and well after going missing for more than two months.
Rambling Rose, a suckler cow, was pregnant when she vanished from her owner's farm in July.
Last week, the cow was spotted on a small island in Lough Breakey, County Meath, where she had recently given birth to a calf.
Both animals were taken to safety by Meath River Rescue on Saturday morning.
Meath River Rescue chairman Christopher Rennicks said the rescue operation began at 10:00 BST and was complete by 11:50 BST.
Mr Rennicks said he had wanted to start the rescue when the animals were spotted on the island on Sunday 28 September, but thought the cow needed to build up her strength for the journey.
'Relaxed'
The cow was given extra food all week before the team embarked on the rescue.
The team harnessed Rambling Rose to their boat and kept her afloat with lifebuoys as they led her through the water and back to shore.
Mr Rennicks said although the water was 20ft (6m) deep in places, the cow remained relaxed and managed to swim calmly.
The cow's owner, Sean Kelleher, said he was delighted when he heard she was still alive, and with a calf in tow.
"I was hoping that she would turn up. When she went missing I searched for several days, but eventually I had to give up hope," he said.
'Robinson Crusoe'
Mr Kelleher said he initially thought the cow might have drowned, but was pleased that she had managed to survive on the island for such a length of time.
"She was due to calf around mid-August, so we think the bullock is around three weeks old now," he added.
Mr Kelleher said the calf was named "Sunday, as a literary nod to the castaway novel Robinson Crusoe", which featured a character who was named Friday, after the day of the week he was found on an island.
A vet was on hand to check the animals once they returned to shore, but Mr Rennicks said they had come through the journey unharmed.
Around 200 people watched the complex rescue operation that led to Rambling Rose and Sunday being reunited with their owner.
A happy ending for both the rescue team and the farmer, who never expected that the phrase, 'when the cows come home', would ring so true.