Russians attacked in Moscow for wearing 'Western' symbols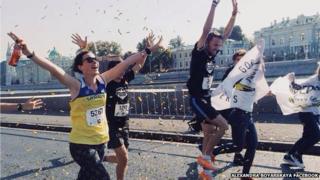 An outpouring of Russian patriotism has accompanied the war in Ukraine and Russian support for the rebels fighting the Kiev government's forces in the east.
In some cases, Russian antagonism towards the Kiev authorities and the West has spilled on to the streets. And Muscovites themselves have been the target.
Journalist Anna Ratafyeva was travelling on the Moscow metro when she was slapped in the face by an elderly woman who didn't like the picture of cartoon character Snoopy waving a Union Jack on the front of her sweatshirt.
The incident happened in September, Ms Ratafyeva wrote on her Facebook page.
"(The woman) approached me, called me 'an American whore' and slapped me in the face. Welcome to the new reality," she wrote.
That new reality involves a Russian ban on many food imports from the European Union and the US, in response to Western sanctions imposed on Russia for its actions in the Ukrainian crisis.
Another unpleasant incident emerged during the annual Moscow marathon on 21 September.
One of the runners, Alexandra Boyarskaya, was wearing a T-shirt in the yellow and blue colours of Ukrainian flag and carrying the word "Ukraine". When she stopped during the race for a drink, she was attacked.
A woman leapt from the cheering crowd, knocked the cup from Ms Boyarskaya's hands, spat in her face and shouted: "You bastard! Go back to your country. You dishonour my city and have no right to run in our marathon!"
Ms Boyarskaya told the BBC that she was very surprised by such a violent reaction as she had not meant to make any political statement with the shirt.
"For me it was like wearing any other T-shirt, for example with the words 'No to war' or with the symbol of pacifism. Because war is nonsense, and hating someone for their nationality is the most stupid and horrible thing," she said.
Despite being angry she didn't report the incident, she says, because it was ridiculous: "She has the right to have her opinion, and the only thing I can do is to regret that there is such an opinion."
Moscow marathon director Dmitry Tarasov told the BBC that the organisers were not aware of the incident. There were runners competing from 61 countries, including Ukraine, he added.
"We don't divide athletes by countries. We have friends in Ukraine ourselves. And there were many Ukrainians among the competitors with two of them among the winners," Mr Tarasov said.
Moscow's police department says there have been no reported incidents of harassment or attacks "related to foreign symbols", and suggests this may be because such cases are not widespread.
Most people, however, have opted not to go to police, choosing instead to take their complaints to social media.
Symbols of hate
One woman wrote on BBC Russian's Facebook page that her car was blocked in because of a small yellow-and-blue ribbon on her car mirror.
Another user was insulted because she had adopted a plaited hairstyle similar that of Yulia Tymoshenko, Ukraine's former prime minister.
"I have a polo [shirt] with US symbols and a shop assistant in a pharmacy told me it was unpatriotic," Andrey Albekov wrote on BBC Russian's Facebook page.
"These are the symbols of our sworn enemies who have hated Russia and everything Russian for centuries," another user, Yevgeny Filatov, wrote.
At a recent anti-war march against Russia's involvement in the Ukraine, some onlookers hurled abuse at the thousands of people carrying Ukrainian flags and yellow-and-blue ribbons.
Among the insults that could be heard was "national traitors", a term used by Russian President Vladimir Putin when he gave a speech in Crimea after it was annexed by Russia in March.