Spain fears Ebola but government says all under control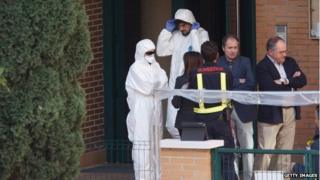 Spain is well-equipped to contain the Ebola virus, the government says, but many Spaniards are worried about how the disease is being managed after a nurse became the first confirmed case of the deadly virus being contracted outside Africa.
Teresa Romero is being treated in a Madrid hospital. She is one of six people placed in quarantine since Monday while more than 50 healthcare workers are under observation because of their contact with the nurse and two repatriated Catholic missionaries who died of Ebola in Madrid in August and September.
Opposition politicians criticised the government - particularly Health Minister Ana Mato - in the Spanish parliament on Wednesday for failing to respond to the crisis quickly, and for - they said - not providing Spaniards with enough information or reassurance.
Prime Minister Mariano Rajoy called on his critics to "let the healthcare professionals, who have proven prestige, do their job", adding: "The Spanish health system is one of the best in the world."
Hospital protests
But in the suburb of Alcorcon, where the infected nurse lives, locals are concerned. "I don't want to panic but I'm scared, above all for my kids," Pilar Valencia, who lives in same building as Ms Romero, told Spanish media.
Despite Mr Rajoy's praise, many of Spain's healthcare professionals have expressed doubts of their own about how the Ebola crisis is being managed, and voiced fears that the disease could spread further.
Doctors and nurses have staged several demonstrations outside Madrid hospitals, some of them calling on the health minister to resign.
Gabriel del Pozo, deputy secretary of the AMYTS healthcare workers' union, said that although his colleagues understood the risks involved, more investment and training in areas such as the use of protective clothing would calm their fears.
"We have no doubts that our professionals are qualified enough. All we ask of the authorities is to ensure that we have enough resources and to let the professionals get on with it," he told the BBC.
'Dangerous cuts'
Healthcare workers such as Teresa Romero who had already treated Ebola patients had been well trained, he explained. However, he warned that there were many other staff who might come into contact with infected patients in the future who were unfamiliar with safety procedures.
His and other unions have been prominent critics of the Rajoy government's cuts to spending on healthcare, and Mr del Pozo said austerity policies had undermined Carlos III hospital, where all of Spain's Ebola cases have been treated so far.
"One of the biggest problems we've had with this issue is the dismantling of Carlos III," Mr del Pozo said. "This has affected the ability to handle this disease in a more co-ordinated, rigorous way."
In Madrid, people appear confused by the lack of information and worried by how the Ebola virus has been managed.
"This makes me angry", Alfonso Roman, an unemployed labourer, said. "It's been negligence on the part of the authorities. The health minister needs to explain what has happened."