About 10,000 customers still without electricity in Republic of Ireland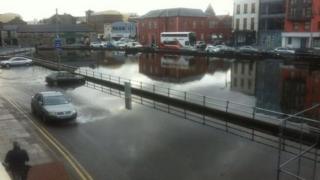 About 10,000 customers are still without electricity in the southern part of the Republic of Ireland following storms.
Power grid company ESB Networks said the cuts were caused by lightning.
The main areas affected are Cork, Clonakilty, Dunmanaway and Bandon in County Cork; Gorey and Enniscorthy in County Wexford; and Thomastown in County Kilkenny.
ESB crews were unable to work overnight due to bad weather.
ESB Networks spokesperson Mike Fitzgerald told RTÉ that efforts to restore power had been hampered because the storm had been very severe and very prolonged.
Repair crews are due to begin working on Thursday morning.
ESB said it hopes to have most customers restored by lunchtime.
Irish weather service, Met Éireann, has issued a rainfall warning for counties Cork, Kerry, Waterford and Wexford.
They have forecast 20mm to 40mm of rain, with a possibility of between 40mm and 50mm hitting parts of Kerry and west Cork.
Minor flooding has already affected Fr Matthew Quay, in the heart of Cork city.