Ebola: Spanish nurse Teresa Romero 'worsens'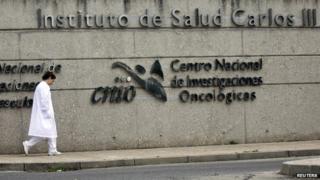 The health of a Spanish nurse who became the first person to contract Ebola outside of West Africa has worsened, a hospital official said on Thursday.
Teresa Romero's brother said her health had deteriorated and she was now being helped with her breathing in hospital.
Meanwhile, two doctors who treated her have been admitted for observation.
The admissions bring to six the total number of people under quarantine at the hospital in Madrid.
A spokesman for the Carlos III hospital said that so far neither of the two doctors recently admitted had shown Ebola symptoms.
Ms Romero is the first person to have contracted the deadly virus outside West Africa.
She was part of a team of about 30 staff looking after two missionaries who later died from the virus after being repatriated from West Africa.
Ms Romero told a Spanish newspaper that she might have become infected when removing her protective suit after cleaning one of the missionaries' room.
---
Avoid direct contact with sick patients
Wear goggles to protect eyes
Clothing and clinical waste should be incinerated and any medical equipment that needs to be kept should be decontaminated
People who recover from Ebola should abstain from sex or use condoms for three months
---
On Wednesday she said that she was not feeling unwell, but now her condition has worsened although details remain unclear.
Her husband is among those being monitored.
The Ebola outbreak has already killed more than 3,000 people and infected more than 7,200, mostly in West Africa.
Spanish newspaper El Pais said that "a chain of human errors" had led to the first contagion of Ebola outside West Africa.
After cleaning the room of one of the missionaries following his death from the virus, Ms Romero took two days off from work and was instructed to monitor her temperature, the paper adds.
Reports as to what happened next vary, but it is believed that several days after cleaning the room she called the hospital reporting feverish symptoms and a temperature of 37.6C.
Sources working at her primary health care centre - where she was referred - told Spanish media she had not explained that she had been in contact with Ebola-infected patients. As a result she was discharged with painkillers.
Missionary Miguel Pajares, 75, died on 12 August after contracting the virus in Liberia. Manuel Garcia Viejo, 69, died on 25 September after catching the disease in Sierra Leone.
Global developments
In other developments,
The US is introducing new security measures to screen passengers arriving from Ebola-affected countries in West Africa at five major US airports
In Texas, a county sheriff deputy was quarantined after visiting the home of the first person diagnosed with Ebola on US soil, who later died from the virus.
An Australian nurse recently returned from working with the Red Cross in Sierra Leone is undergoing testing in a hospital in Queensland. She is reported to have had an increased temperature but was "feeling well", the Red Cross said.
Thomas Duncan, 42, tested positive in Dallas, Texas, 10 days after arriving from his native Liberia.
He became ill a few days after arriving in the US. Even after going to hospital and telling medical staff he had been in Liberia, he was sent home with antibiotics.
Peter Piot, one of the scientists who discovered Ebola in 1976, has told the BBC more must be done to stop the spread of the virus, saying he never imagined an outbreak "could have got to this point".
Ebola facts
People can catch Ebola if they are in direct contact with the bodily fluids of an infected person or animal
Early symptoms include fever, muscle pain, headache and sore throat. This is followed by vomiting, diarrhoea and bleeding, sometimes from the eyes and mouth
The current outbreak started in March in west Africa, where the worst-affected countries include Guinea, Sierra Leone and Liberia
It is thought unlikely that the disease would spread if it did come to the UK because quarantine and communications are more developed than in parts of western Africa
There is no licensed Ebola vaccine but treatments are in development
---
---