Malala calls for child rights after joint Nobel Peace Prize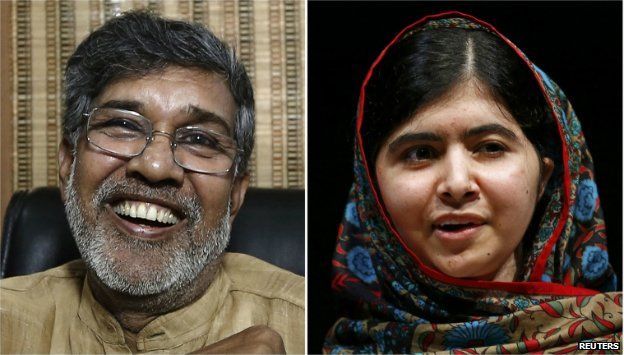 Pakistani activist has Malala Yousafzai urged children to "stand up for their rights" after becoming the youngest person to win the Nobel Peace Prize.
She said she was "honoured" to receive the award, saying it made her feel "more powerful and courageous".
The 17-year-old was jointly awarded the prize with Kailash Satyarthi, an Indian child rights campaigner.
The teenager was shot in the head by Taliban gunmen in October 2012 for campaigning for girls' education.
She is the youngest ever recipient of the prize.
Speaking at a news conference in Birmingham, UK, where she now lives, she revealed she found out the news after being called out of her chemistry class at school.
Despite her excitement, she said she attended her afternoon lessons in physics and English.
She thanked her father for "not clipping her wings" and said she was proud to have shown that "a girl is not supposed to be a slave".
Dedicating the award to "all those children who are voiceless", she said: "My message to children around the world is: stand up for your rights."
She said she was "really happy to be sharing this award with a person from India", before joking that she couldn't pronounce Mr Satyarthi's surname.
She said she and Mr Satyarthi had decided to invite Indian Prime Minister Narendra Modi and his Pakistani counterpart Nawaz Sharif to the award ceremony in December in Oslo in a bid to improve relations between the two.
They will receive a medal and $1.4m (£860,000) pounds in prize money.
Analysis: Mishal Husain, BBC News
From what I know of Malala and her family, they will take the news from Oslo in their stride.
She is in demand as a speaker around the world but she also has her own education to consider and told me last year she was determined to complete that and then - hopefully - return to Pakistan one day.
She is a very grounded young woman, who grew up very fast when the Taliban arrived in her valley and banned girls from going to school.
She is serious and dedicated to her cause of access to education, conscious of the power of her name and her story.
But I wonder if there are times when she misses the anonymity and simplicity of her old life. As she told me last year: "In Swat, I was simply Malala."
US President Barack Obama congratulated both Malala and Mr Satyarthi on winning the award, calling it "a victory for all who strive to uphold the dignity of every human being".
"Malala and Kailash have faced down threats and intimidation, risking their own lives to save others and build a better world for future generations," he said.
Announcing the award, the Nobel committee praised the pair's "struggle against the suppression of children and young people".
Mr Satyarthi has maintained the tradition of Mahatma Gandhi and headed various forms of peaceful protests, "focusing on the grave exploitation of children for financial gain," the committee said at the Nobel Institute.
The 60-year-old founded Bachpan Bachao Andolan, or the Save the Childhood Movement, which campaigns for child rights and an end to human trafficking.
Reacting to the news, Mr Satyarthi told the BBC: "It's a great honour for all the Indians, it's an honour for all those children who have been still living in slavery despite of all the advancement in technology, market and economy.
"And I dedicate this award to all those children in the world."
The Nobel committee said it was important that a Muslim and a Hindu, a Pakistani and an Indian, had joined in what it called a common struggle for education and against extremism.
Malala said the award was "a message of love between two religions".
This year's prize is likely to be seen as an uncontroversial choice from a Norwegian Nobel committee that has not shied away from controversy in recent years, says the BBC's Lars Bevanger in Oslo.
Norway's relations with China are still suffering after a Chinese dissident won the peace prize in 2010, our correspondent adds.
Malala first came to attention in 2009 after she wrote an anonymous diary for BBC Urdu about life under Taliban rule in north-west Pakistan.
She was shot when gunmen boarded her school bus in the Swat Valley.
She has since recovered from the attack and has remained in the public eye, publishing an autobiography and addressing the UN General Assembly.
She had been hotly tipped to win last year's Nobel Peace Prize.
This year's record number of 278 Nobel Peace Prize nominees included Pope Francis and Congolese gynaecologist Denis Mukwege, although the full list was kept a secret.
Former NSA contractor Edward Snowden and Russian newspaper Novaya Gazeta had also been tipped as favourites for the award.
Nobel peace prize
95
Nobel Peace Prizes have been awarded 1901-2014
16 women have been awarded the prize, including Malala Yousafzai

17 Malala's age, making her the youngest ever laureate

62 average age of laureates when they were awarded the prize

3 laureates were under arrest at the time of the award: Carl von Ossietzky, Aung San Suu Kyi & Liu Xiaobo