Bosnian nationalists pull ahead as election results come in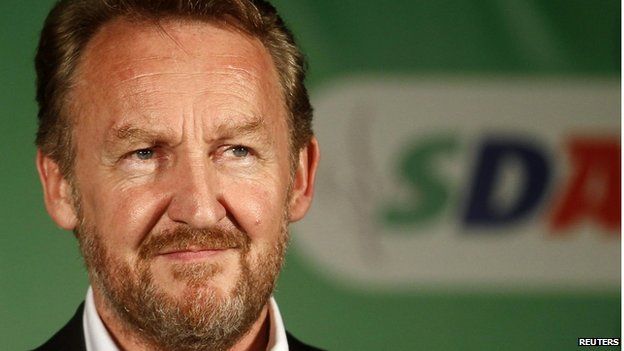 Nationalist candidates for Bosnia's tripartite presidency are ahead, as election results are counted.
Bakir Izetbegovic, of the main Muslim SDA party, has 33% of votes, with 77% counted, eight points ahead of his nearest rival.
Zeljka Cvijanovic is ahead in the race for the Serb seat with Dragan Covic leading for the Croat seat.
Economic fears and ethnic tensions dominated the elections, nearly 20 years after the Bosnian war.
Turnout was 54.14%, two percentage points lower than the last elections in 2010.
Tensions between Bosniaks (Muslims), Serbs and Croats remain high after a war which cost more than 100,000 lives, and there are calls for secession.
The country is one of the poorest in Europe, with joblessness at 44% and youth unemployment even higher.
EU membership hopes have been dogged by failure to meet reform targets.
It is the seventh election since the US-brokered Dayton peace agreement ended the 1992-1995 war between the main ethnic groups.
In February, mass violent protests broke, reflecting deep dissatisfaction with political elites and the high levels of corruption in the country.
Analysts say protests could return if the new government does not tackle corruption and the spluttering economy.
"Nothing functions in this country," Mirsada Grgo, 64, told AFP news agency in Sarajevo, echoing the discontent of many Bosnians.
"The time has really come for a change. People have been sleeping for too long, and this is their last chance to wake up."
Bosnia is split into two "entities", the Serb Republic (Republika Srpska) and the Muslim-Croat Federation, which are both under international supervision.
The elections are for the regional parliaments of each entity, as well as for the state of Bosnia as a whole and for the three-member presidency.
Correspondents say the election campaign has been fought along nationalist lines, with each ethnic group calling for a different vision for the country.
Bosnian Serbs have called for the dissolution of the state, the Croats have pushed for secession within Bosnia, and the Bosniak Muslims for unity between the groups.
Bosnian Serb leader Milorad Dodik said that his policy would be for the Serb Republic to be "less and less an entity and more a state".
Mr Izetbegovic said he hoped voters would choose candidates capable of "overcoming the current deadlock that blocks the country's integration into EU and Nato".
The EU said on Friday said that a new government would be expected to "bring much needed reconciliation in society and politics... and close the gap with the rest of the region and ensure progress towards the EU".