Bosnia ethnic divide 'key factor' in election - OSCE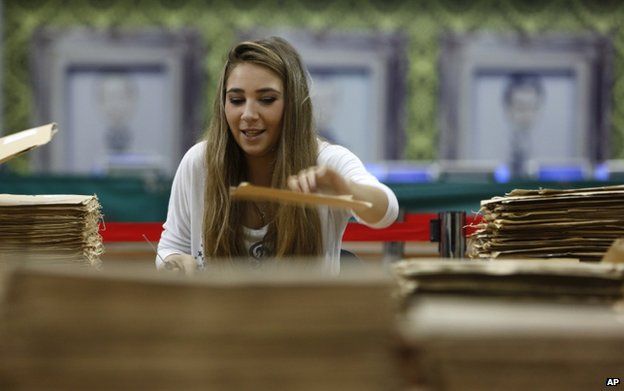 Bosnia-Herzegovina's general election was hampered by ethnic divisions and a failure to move beyond the 1995 Dayton peace deal, observers say.
The remarks by European watchdog OSCE came as nationalist candidates from all three ethnic groups won the race for Bosnia's tripartite presidency.
Tensions between Bosniaks (Muslims), Serbs and Croats have persisted since the 1992-95 war in which 100,000 died.
Bosnia has a 44% jobless rate, with youth unemployment even higher.
Almost 20 years after the civil war, Bosnia is still split into two "entities" - the Serb Republic (Republika Srpska) and the Muslim-Croat Federation.
Turnout for Sunday's vote was 54%, two percentage points down on the 2010 poll.
With 92% of the votes counted, Bakir Izetbegovic of the main Muslim SDA party secured the Bosniak seat in the presidency, while Dragan Covic of the HDZ won the Croat seat.
Two nationalists were neck and neck on 48% for the Serb seat - Zeljka Cvijanovic of the ruling Bosnian Serb SNSD party and opposition politician Mladen Ivanic.
The three-member collective presidency was established as part of the US-brokered Dayton peace deal that brought the war to an end.
A similar picture of nationalist dominance also emerged in the national assembly. And in the Serb Republic, nationalist Milorad Dodik was leading the race for the separate presidency of the semi-autonomous region.
While the Organization for Security and Co-operation in Europe (OSCE) mission said candidates in the election had been able to campaign freely, its leader Roberto Battelli issued a strong warning.
"The lack of political will to move beyond the Dayton agreement prevents the country from moving away from the current inter-ethnic divides and towards real progress for the country," he said.
The head of the Parliamentary Assembly of the Council of Europe delegation, Tiny Kox, warned of an "ever-growing mistrust in the functioning of democratic institutions, which endangers stability and compromises the future of the country."
Each ethnic group has promoted different visions for Bosnia's future.
Mr Dodik has called for the Serb Republic to be "less and less an entity and more a state"
The Croat HDZ wants to create a Croat entity in Bosnia, rather than a federation
Bakir Izetbegovic's Bosnian SDA is backing a strong, unified state.