East Ukraine rebel leader Gubarev unconscious after ambush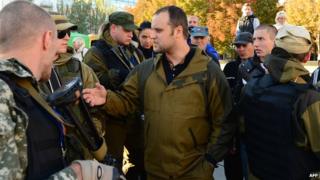 A top rebel politician in eastern Ukraine, Pavel Gubarev, is unconscious in hospital after gunmen fired at his car and it crashed into a pillar, Russian media report.
Sources in Mr Gubarev's pro-Russian "Novorossiya" movement said his car was attacked in the Donetsk region, en route from Rostov-on-Don in Russia.
He is now in a Rostov hospital. Reports say fellow rebels in the car at the time were not injured.
Rebels hold a large part of the region.
Few details about the attack on Mr Gubarev's car were given in the reports.
His wife Yekaterina, quoted by Russia's Tass news agency, said he did not have any bullet wounds and his injuries resulted from the car's collision with the pillar.
In February Mr Gubarev led the occupation of the Donetsk regional administration building by hundreds of pro-Russian activists.
The activists declared a "People's Republic of Donetsk" and he adopted the title of "governor". In April fighting erupted between the rebels and Ukrainian government forces.
A fragile ceasefire agreed on 5 September is generally holding, but clashes have continued in some areas, especially around Donetsk airport.
Ukrainian President Petro Poroshenko is expected to hold talks on the crisis with Russia's President Vladimir Putin in Milan later this week. He was quoted on his website as saying he was under no illusions.
"These talks won't be easy, but I am ready for them," he said.
Mr Putin's spokesman said on Sunday that 17,600 Russian troops on training exercises near the border were to be pulled back from the area. Russia has denied widespread claims of supplying troops and weapons to the rebels.
The Ukrainian president said Austria had sent drones to monitor Ukraine's border with Russia as part of the ceasefire and further unmanned aircraft were due to be delivered soon by Germany and France.
Ukrainian Defence Minister Valery Heletey left his post on Sunday, two months after a rebel counter-offensive led to several areas of eastern Ukraine being recaptured.
He was widely criticised for the heavy losses of Ukrainian forces at Ilovaisk, east of Donetsk, where the government said more than 100 soldiers and volunteers were killed.
Mr Poroshenko on Monday nominated the head of the National Guard, Stepan Poltorak, 49, to replace him.