Fianna Fáil member Willie O'Dea says party united behind Micheál Martin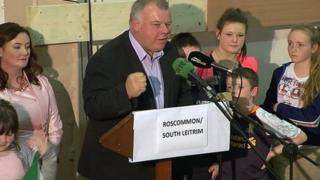 A Fianna Fáil Irish parliament member has said the party is united behind its leader Micheál Martin.
Willie O'Dea was reacting to the party's poor performance in two Irish parliament (Dáil) by-elections.
On Sunday, former Fianna Fáil minister Éamon Ó Cuív described the by-election results as a bad day for the party.
Mr O'Dea said a leadership contest would be divisive and that he supported the party's leader.
The reaction came after surprise results in the two by-elections on Saturday.
In Roscommon/South Leitrim, independent Michael Fitzmaurice won the seat on the seventh count. He defeated favourite Ivan Connaughton of Fianna Fáil.
Mr Fitzmaurice finished with 14,881 votes, 2,831 more than Mr Connaughton.
Paul Murphy of the Anti-Austerity Alliance won the seat Dublin South-West after a campaign that focused on the issue of water charges.
Sinn Féin's Cathal King had been the favourite for the seat and topped the poll.
However, Mr Murphy overtook him on vote transfers.
Fianna Fáil candidate John Lahart came in fifth.