Italy gets more EU aid to curb Mediterranean migration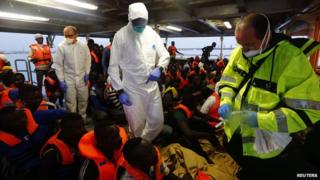 The EU border agency Frontex says it has pledges of new equipment to help Italy cope with the migrant influx in the Mediterranean but more is needed.
Frontex plans to deploy six ships and three aircraft monthly in Operation Triton, starting on 1 November.
The operation's monthly budget will be 2.9m euros (£2.3m; $3.7m).
This year there has been a surge of migrants trying to reach Italy by boat. A joint EU police operation is under way to intercept people-traffickers.
The boats - often overcrowded and unseaworthy - mostly set sail from Libya, which Frontex describes as "a de facto failed state without a functioning law enforcement".
Last year Italy launched a major search-and-rescue operation called Mare Nostrum off the Libyan coast and it is continuing. It was triggered by a boat disaster off Lampedusa in which more than 300 migrants drowned.
Frontex has already been helping Italy in the Mediterranean, but with a budget of just 5m euros annually.
The Frontex statement said the agency would send "debriefing" teams to Italy to help collect intelligence on people-smuggling networks.
Equipment for Operation Triton has been pledged by several countries including Finland, France, the Netherlands, Spain, Portugal and non-EU member Iceland.
Frontex director Gil Arias Fernandez welcomed the pledges but said Frontex still needed more technical equipment in order to be able to fully implement the operation.
EU's migrant pressure
More than 165,000 irregular migrants have tried to get to Europe by boat across the Mediterranean this year - nearly three times the 2013 total
Almost half of them were Syrians and Eritreans, the UN refugee agency UNHCR says
Migrant boats often set sail from troubled Libya - they are generally overcrowded, often unseaworthy
If Italy is their point of arrival in the EU it is Italy's duty to process asylum seekers' claims
Q&A: Migrants and asylum in the EU
Pressure points
Police forces across the EU launched a joint operation on Monday to intercept illegal migrants with no papers or fraudulent ones, and to combat people-smuggling gangs.
An internal EU mission statement leaked by several media outlets said the Mos Maiorum police operation would run for two weeks, until 26 October, co-ordinated by Italy, which currently holds the six-month EU presidency.
The plan is to get intelligence from illegal migrants about organised crime groups, so that efforts against them can be better targeted.
Italy, Greece and Malta are major entry points for migrants fleeing war and abuses in the Middle East and Africa. Their migrant reception centres are overcrowded and often squalid, with many migrants held there for months or years as the authorities struggle with thousands of asylum claims.
The tiny Spanish territory of Melilla in Morocco has also become a magnet for poor sub-Saharan migrants. About 100 tried to scale the border fence there on Tuesday and at least five got in.
Migrants hoping to get to the UK have also incurred local resentment in Calais, northern France. Their numbers have risen to at least 1,500 this year, Calais officials say.
Several hundred shopkeepers, police officers and farmers demonstrated in Calais on Monday, demanding police reinforcements to keep control of the migrants.