Are we right to censor the brutality of war?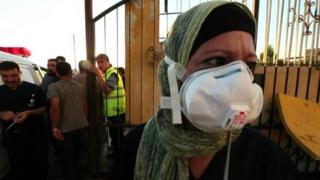 In the heart of the ancient city of Bayeux an exquisitely embroidered cloth nearly 70m (230ft) long tells a story of war many centuries ago.
The Bayeux Tapestry, stitched on linen in the 1070s, depicts the Norman conquest of England. Woollen yarns are pulled through a chronicle of broken pledges, bloody battles, desperate refugees, frenzied looting, and decapitations.
"It's the war reporting of its time," marvel two French colleagues as we carefully inspect this extraordinary testament included in Unesco's "Memory of the World".
What do we, as correspondents, want the world to remember about wars of our time?
And what if, in our most modern of worlds, the public decides something different?
Of all the issues that weighed heavy on the minds of this year's jury of eminent journalists at the prestigious Bayeux Calvados Awards for War Reporting, this was it.
The public chose, for their "Public Prize", the most shocking of photographs - images that many journalists believe the public would not, should not, want to see.
Even the Turkish journalist Emin Ozmen who had photographed the brutal decapitation of four Syrian soldiers by militant Islamist forces in August last year, betrayed his own ambivalence.
"I did not want to look," he recalled, his voice trembling when he was interviewed on stage after receiving his award.
And yet, when his Turkish newspaper had refused to publish the grisly images, he quit, and sold his work to Paris Match and Time magazine.
"I wanted the whole world to see the cruelty of the Islamic army," he told the packed hall about the Islamist group which, at the time, had not yet declared its new name or unleashed its sickening slick campaign to publicise its beheading of Western hostages.
"I am shocked and saddened" regretted Ammar Abd Rabbo, a French-Syrian photojournalist who was a member of the journalists' panel. He made it clear he did not support their decision to include this entry in the shortlist presented to the public jury.
"This is not 'reportage'," he wrote in a blog post. "This is propaganda. Journalists must investigate, give perspective, verify the facts."
Journalists awarded their main prize in the photo category to the AFP photojournalist Mohammed Al-Shaikh for his more subtle, but still striking, images taken during violent demonstrations in the Gulf state of Bahrain.
The public's choice provoked palpable unease and introspection at this year's annual gathering set in the first town to be liberated after the D-Day Normandy landings of 1944. The awards honouring war reporters were established 50 years after the historic invasion.
"How can we say we must not publish or broadcast gruesome images of the beheading of American journalists like Jim Foley and Stephen Sotloff, and other Western hostages, but then allow these photographs to be entered in the awards?" lamented a Western correspondent who works extensively in Syria.
The choice was especially uncomfortable because, on awards night, the audience included two former IS hostages, French journalists Didier Francois and Nicolas Henin.
Diane and John Foley, parents of photojournalist Jim Foley who was decapitated by Islamic State fighters in August, sat in the front row and were given a standing ovation.
The awards ceremony did not show the worst of the images.
There was impassioned discussion among journalists over what explains the public's choice. Some journalists cited the trivialisation of imagery caused by the omnipotence of social media. Others dismissed it as voyeurism.
Journalists targeted
But others saw it as a statement that the raw horror of war must not, could not, be hidden.
"The world must know," declared an editor from a photo agency who backed the decision to include the most shocking of photographs.
In the TV category as well, another public jury comprised of 1,700 students from 41 schools chose the memorable report with harrowing images of an incendiary weapon attack on a school in northern Syria by my colleagues Ian Pannell and Darren Conway.
This was a year when the jury analysed, argued, even anguished over every category.
And this year, more than ever, journalists themselves were one of the big stories at a time when members of the media are being kidnapped, targeted, killed.
"For the first time since war reporting began in the 19th Century, the very nature of our calling has changed," the distinguished American correspondent Jon Randal, President of this year's main Bayeux jury, told me. "Now we are singled out as preferred targets."
Anthony Loyd of the Times won the Written Press award for his article, I Thought of Hakim as a Friend. Then He Shot Me.
It was a breathtaking tale of his narrow escape in northern Syria after he was beaten and shot by someone he believed would protect him.
It also provoked debate over whether the story of a journalist's survival - however well written and compelling - should be included when, in Syria alone, more than 200,000 people have been killed.
It's a dilemma most journalists, including Loyd himself, would recognise.
This year, seven out of 10 prizes were awarded for work in Syria, including our own story of the besieged Palestinian camp of Yarmouk, which won the TV prize, and the Aleppo documentary for ARTE by filmmaker Marcel Mettelsiefen.
But conflicts in the Central African Republic, Nigeria, Ukraine, and Chechnya also dominated with their own stark imagery.
The risks were highlighted again when another stone was unveiled in the War Reporters' Memorial.
In all, 113 more names of journalists killed between April 2013 and August 2014 were engraved in another tall white block set in the quiet promenade sheltered by an emerald canopy of trees.
Some 2,300 journalists killed since 1944 are remembered here.
This year's Bayeux reports were, like its famous Tapestry, a detailed chronicle of wars of our time with many threads running through them.
I asked one judge, British journalist Jon Swain, how he believed the jury had made its decisions this year.
"In the end, you choose the story you will remember," the veteran war correspondent replied.