Ukraine crisis: 'No breakthrough' in Putin-EU talks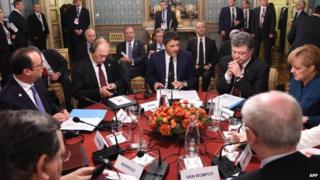 The presidents of Russia and Ukraine have held talks with the EU, but there has been no apparent breakthrough on how to end the crisis in Ukraine.
Vladimir Putin and Petro Poroshenko - who were joined by EU leaders in Milan - described the talks as positive but also difficult.
The West says Russia is arming separatist rebels and sending troops to eastern Ukraine. Moscow denies this.
The presidents did say outlines of a deal on a gas dispute had been agreed.
"We have agreed on the main parameters of the contract," Mr Poroshenko said, adding that "we could not reach any practical results".
Mr Putin said there was "progress" on the issue but that questions remained on how Kiev would pay its huge gas debts - estimated to be $4.5bn (£2.8bn) - to Moscow.
Most Russian gas supplies to Europe are delivered via Ukraine, and Mr Putin has warned Europe of "major transit risks" unless Ukraine settles the row.
Russia cut gas supplies to Ukraine in the summer, accusing Kiev of failing to pay its debts. Ukraine says the price set by Moscow is unfair.
The gas row came amid worsening relations between the two countries, after Russia's annexation of the Crimean peninsula in March and the seizure by separatists of parts of eastern Ukraine a month later.
More than 3,600 people have been killed since the fighting erupted in the Donetsk and Luhansk regions in April.
Ukraine and the rebels agreed a truce in September in Minsk, Belarus, but each side accuses the other of repeated shelling.
'Full of misunderstandings'
The talks took place on the sidelines of the two-day Asia-Europe (Asem) summit in Milan, Italy, which brings together more than 50 member states.
Participants in the meeting on Friday morning included UK Prime Minister David Cameron, French President Francois Hollande, German Chancellor Angela Merkel and Italian Prime Minister Matteo Renzi.
Mr Putin and Mr Poroshenko then held a second round of meetings, where Ms Merkel and Mr Hollande were present. Later in the day, the Ukrainian and Russian leaders had separate bilateral talks.
Mr Poroshenko was quoted as saying that, aside from the gas issue, two things had been agreed at the second meeting:
That all the clauses of the Minsk memorandum should be implemented
That elections should be allowed to take place in Donetsk and Luhansk
President Putin stressed that the Minsk agreement was "a guide" to the settlement - but said the deal was not being fully implemented by both Ukrainian troops and the rebels.
He also said the talks were "good" and "positive", although his spokesman described them as being "full of misunderstandings".
"Unfortunately, some participants of [the Milan] breakfast demonstrated complete unwillingness to understand the reality in south-eastern Ukraine," Dmitry Peskov said, quoted by Russian media.
At the same time, Ms Merkel admitted that: "I cannot see a breakthrough here at all so far".
Mr Renzi described the meetings as constructive - but added that big differences remained.
Meanwhile, Mr Cameron said Mr Putin had made it clear he did not want a frozen conflict or a divided Ukraine.
But the UK prime minister stressed that the EU sanctions would be kept in place until actions agreed as part of the Minsk agreement were taken.
---
Minsk memorandum: Key points
To pull heavy weaponry 15km (nine miles) by each side from the line of contact, creating a 30km security zone
To ban offensive operations
To ban flights by combat aircraft over the security zone
To set up an OSCE monitoring mission
To withdraw all foreign mercenaries from the conflict zone
---
The BBC's Damian Grammaticas in Milan says the talks were an unusual opportunity for the sides to get talking and build some sort of trust, which has so far been severely lacking.
Earlier this week, Mr Putin ordered the withdrawal of nearly 18,000 Russian troops stationed near the Ukrainian border.
However, Nato says it has seen no sign of any major Russian pullback.