Frank Feighan lays wreath at Messines Ridge WWI event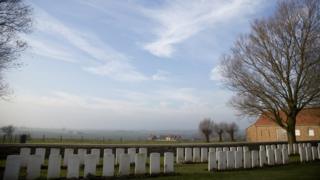 A member of the Irish parliament has laid a wreath at a Flanders peace park on the centenary of the World War One Battle of Ypres.
Frank Feighan, from the governing Fine Gael party, laid the green laurel wreath at the Island of Ireland Peace Park on Messines Ridge in Belgium.
About 70,000 killed, injured or missing from Irish-raised regiments are commemorated there.
Mr Feighan said the men had been "airbrushed out of history".
He said: "I feel that consecutive Irish governments airbrushed these men out of history and they had to grow up in a state which didn't dare talk about the bravery, the suffering, the service that they gave, history forgot them but now is an appropriate time to remember.
"I felt that this was a history that the vast majority of people in the Republic had forgotten about and now that we have matured it is now very appropriate to remember the thousands of young men from both traditions across the island of Ireland who died."
Two members of the Northern Ireland Assembly, Jim Wells and Judith Cochrane, also laid wreaths, one red poppy, one green laurel.
The round tower at the peace park was built using stone from a quarry in Mullingar in the Irish midlands. Apprentices from Northern Ireland and the Republic of Ireland took part in its construction.
It can be seen from miles away along the mainly flat countryside of Flanders and the area surrounding Ypres.
The Messines ridge is a short distance away, part of a few miles of land that were repeatedly fought over during the 1914-18 conflict. The most famous battle was at Passchendaele.
Irish soldiers
Historians have estimated that more than 200,000 Irish-born soldiers served in the British Army and Navy from 1914 to 1918.
The names of 49,400 Irish casualties of WW1 are listed on the Republic of Ireland's National War Memorial at Islandbridge, Dublin.
In July, Irish President Michael D Higgins paid tribute to Irish soldiers who fought in World War One.
He was joined the Duke of Kent and Northern Ireland Secretary of State Theresa Villiers at a commemoration in Dublin.
They dedicated a cross of sacrifice at Glasnevin Cemetery to mark the 100th anniversary of the outbreak of the war.