Italy 'violated rights of migrants' says ECHR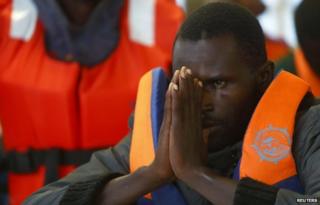 Italy broke the rights of migrants by deporting them back to Greece where they had illegally boarded ships, the European Court of Human Rights says.
The court said four migrants had suffered collective and indiscriminate expulsion, in the case of 32 Afghans, two Sudanese and one Eritrean.
They had been deprived of their rights of asylum in Italy, it added.
Italy and Greece have both seen a big increase in the number of migrants trying to reach their shores.
More than 140,000 irregular migrants have arrived in Italy this year alone, and some 3,000 have died or disappeared at sea.
The case heard by the court in Strasbourg involved people who were caught by Italian border police in 2008 and 2009 in the eastern ports of Ancona, Bari and Venice after illegally getting on ships in the Greek port of Patras.
The ECHR said that Italy had violated several clauses of the European Convention on Human Rights, including a failure to provide access to the asylum procedure in Ancona.
'World's waiting room'
The court said it was concerned that the Italian border authorities in the Adriatic Sea ports had largely handed over migrants to ferry captains to be sent back to Greece.
While singling out Italy for three separate violations of the European Convention, the court also said Greece had failed to provide an asylum procedure for people who risked deportation to Afghanistan and possible maltreatment there.
Under EU law, asylum-seekers cannot be refused entrance or be returned to a third country if there is a risk of harm.
Italy launched a search-and-rescue operation last year in the Mediterranean but it has struggled to cope with the sheer numbers of migrants trying to reach its shores.
Last week the EU border agency Frontex said six ships and three planes would take part in a new operation from 1 November.
Meanwhile, Italy's anti-establishment political figure Beppe Grillo has complained that his country is becoming the "world's waiting room for the desperate".
Those he classed as refugees should be welcomed, he said, but others should be "sent back where they've come from".
There has also been a surge in the number of migrants trying to get into Spain's north African territory in Melilla, officials say.
So far this year, there have been 58 attempts to climb over the seven-metre (23-foot) fence that divides the territory from Morocco. There were 38 attempts in 2013 in total, the officials said.