Turkish dailies divided on corridor issue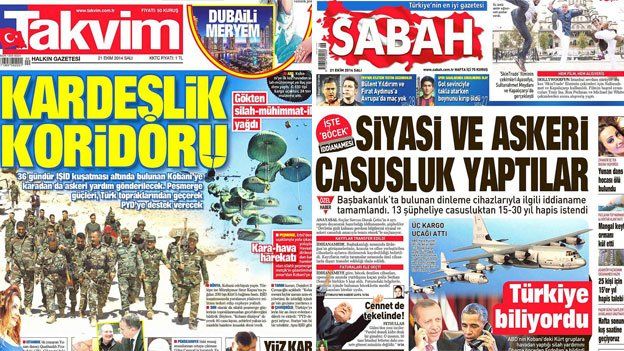 Newspapers in Turkey debate whether the government is correcting past mistakes by allowing Iraqi Kurdish Peshmerga forces to enter Kobane via a Turkish "corridor" - or making more. Some sceptical voices warn against Turkey being drawn into a regional crisis.
Pro-government dailies such as Vatan, Star and Yeni Safak, and the tabloid Takvim put a positive spin on the latest developments, with headlines such as "Corridor of fraternity" (Takvim).
Vatan explains that the move is not a surprise, saying Kobane is of key significance in swinging the balance against Islamic State (IS). "For a long time, plans have been made to wipe IS off the map and it has long been discussed that the remedy is to send Peshmerga from Iraqi Kurdistan to northern Syria. The only through road… is Turkey," Gungor Mengi says in the daily.
Commentator Okay Gonensin says all the "mistakes" in handling the Kobane situation have now been corrected. "But it won't be such a bad thing if we can explain why there was so much resistance in getting to the point of doing the right thing."
The strongly pro-government daily Sabah omits the corridor issue on its front page, choosing instead to highlight the US weapons and medical equipment being dropped on Kobane. It emphasises that the US informed Turkey about them beforehand.
Other dailies are more critical about what amounts to a government U-turn. A headline in the secular paper Cumhuriyet reads: "Not Kobane but the AKP [governing Justice and Development Party] has fallen," suggesting that the party succumbed to the influence of the US in changing its policy to allow a corridor.
The tabloid Sozcu says "Obama telephoned and [President] Tayyip [Erdogan] opened our borders".
Commentator Rusen Cakir says in HaberTurk newspaper that "the AKP pursued the wrong Kobane strategy from the very beginning," and is still doing so by giving support to a Kurdish faction. "It's an increasing probability that Kobane will not fall… and of course getting into a direct or indirect relationship of co-operation with the PKK [Kurdistan Workers' Party] will change the balance both in the region and in Turkey."
Milliyet says that the PKK, which is outlawed in Turkey, "has gained advantages that even it did not expect" - international visibility, legitimacy and new allies.
Milliyet commentator Nihat Ali Ozcan also worries about Turkey getting further sucked into a regional crisis, comparing it to Iraq. "With Iraq, which was already fragile, being drawn into the gravitational field of the Syria crisis, it has made it possible for IS to find a base and become stronger."
BBC Monitoring reports and analyses news from TV, radio, web and print media around the world. For more reports from BBC Monitoring, click here. You can follow BBC Monitoring on Twitter and Facebook.