Positive Action: Irish taxpayers fund patient group's 'extravagant expenses'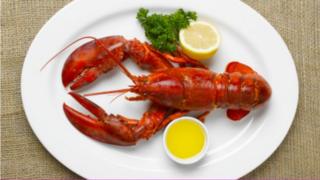 An Irish patients' support group has been criticised for spending public money on items such as angel card readings, filet mignon and lobster.
Positive Action was set up to support women infected with Hepatitis C through contaminated blood transfusions.
A leaked internal audit of the group's finances, carried out by Irish Health Service Executive (HSE), has identified a catalogue of extravagant spending.
It included 795 euros (£627) spent on alcohol at a liver disease conference.
'Serious concerns'
Other expenses claimed by Positive Action included a 202 euros (£160) bill for a courier to transport dry cleaning and dog kennel services that cost 185 euros (£146).
In a statement, the HSE said its auditors had identified "serious concerns in the governance of Positive Action and its ability to manage public funding in a responsible and appropriate manner".
The HSE has funded the group for the last ten years but said it had ceased to provide funds in March 2014, as a result of the concerns raised by the audit.
Positive Action spent thousands of euros to fund relaxation trips and complementary therapies for their members, including angel healing, reflexology, crystal healing, ear candling, thought field therapy and aromatherapy.
'Members' weekends'
One member attended a course called Dancing the Spiral, which cost Irish taxpayers 550 euros (£433).
The support group was initially funded by the Irish Department of Health and Children but the HSE took over responsibility for its funding in 2004.
The HSE said that in 2006, it began seeking detailed information from Positive Action "on particular items of expenditure such as members' weekends and committee expenses, two of the most significant areas of spend incurred by the organisation".
The HSE claimed Positive Action had "resisted" its requests for detailed expenditure information since that date, and subsequently launched judicial review challenges.
Two month after the HSE ceased to fund the support group, it was put into liquidation by its directors.
Contamination
Positive Action was set up 20 years ago, after hundreds of Irish women were infected with Hepatitis C as the result of receiving the contaminated blood product Anti D human immunogloblin.
The blood product, which was manufactured by the Irish Blood Transfusion Service Board from 1970 - 1994, was given to women with the blood type rhesus negative who had given birth to rhesus positive babies.
The aim was to prevent haemolytic disease in the patients' future pregnancies.
Positive Action was managed by a board of eight voluntary members and between 2009 and 2013, the group received 2.3m euros (£1.8m) of taxpayers' money.
During that period, its members filed expenses claims, including travel, totalling more than 250,000 euros (£197,000).
The HSE said its audit, carried out between October 2013 and July 2014, had identified "significant governance and control deficiencies regarding the expenditure of public funds".
Some of the directors of Positive Action have questioned the tone of the audit, while others expressed concern and anger about the way public funds had been used.
However, when they were asked to respond to the audit, they did not challenge any specific finding in relation to any individual transaction.