Donegal deaths: Man still questioned after couple found dead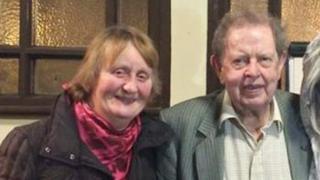 A man is still being questioned after a married couple were found dead in a house in Carndonagh in County Donegal.
The bodies of Jimmy and Kathleen Cuddihy, who were in their 70s, were found at the house by a family member just after 09:00 BST on Thursday.
Irish state broadcaster RTÉ has reported that they appear to have suffered violent deaths.
A 42-year-old man is being held at Buncrana police station.
The couple had four children and had been living in Carndonagh since the 1960s.
Mr Cuddihy was a retired schoolteacher who was originally from Kilkenny, and Ms Cuddihy was a retired nurse.
Shock
Stormont Assembly member John Dallat taught for seven years in Carndonagh with Mr Cuddihy and remained friends with him and his wife.
"He was an exceptionally good teacher, he knew every pupil individually, even when there would probably be up to a thousand in the school then," said Mr Dallat.
"He certainly put many people on a career course in engineering and mathematics and it just seems unbelievable that his life and that of his wife should end so tragically and in such terrible circumstances for the whole family.
"Kathleen was the local nurse but she was much more than that, she was much, much more than that."
Martin McDermott, a Fianna Fail councillor for the area, said the town was in a state of shock.
"People are numbed with what has happened, the two people are well known in the local community so there's been a very sad reaction to the news."