Roma complain of Czech school segregation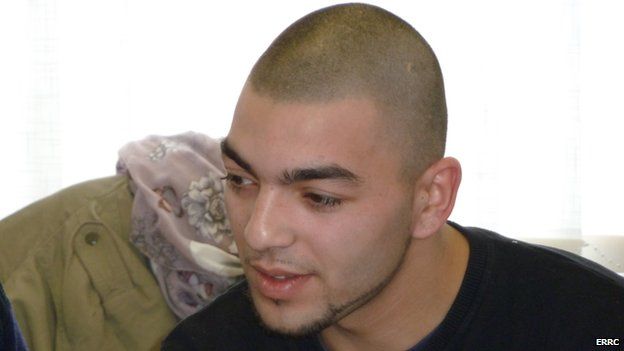 The Czech Republic is breaching EU anti-discrimination law by sending a disproportionately high number of Roma children to special schools for children with learning difficulties, the European Commission says.
The Commission has initiated what it calls "infringement proceedings" against the country for failing to improve the situation, seven years after a landmark European Court of Human Rights ruling.
"Those two years in special school completely ruined my life," says Julek Mika, down a crackly phone line from the industrial city of Ostrava.
"People say - 'it was just two years', but I can tell you they completely ruined my life."
Julek is 26. Twenty years ago, like thousands of other children in the Czech Republic, he started primary school. At first, all went well for the young Roma boy. He had a nice teacher and got good marks. Then fate intervened.
"Basically two things happened. My teacher had a car accident and was replaced by someone else. Then I got sick - I caught double pneumonia - and spent two months in hospital," he told the BBC.
But when Julek got back to school, everything had changed.
"Instead of helping me catch up or giving me extra work to do at home, the new teacher insisted on testing me on what the other kids had been learning in my absence. She gave me bad grade after bad grade," Julek said.
"She bombarded me with tests. I came home crying from school every day. At the end of the year they said I'd fallen behind the others and had to go to special school," he added.
"It was a total shock. All the other kids in special school were Roma. There were maybe three, four white kids. We did some basic subjects, but an awful lot of cooking, arts and crafts, stuff like that. We did a lot of gym. So we didn't really use our brains."
After the first year it was clear to Julek's teachers and parents he was in the wrong place. Two years later he was returned to regular primary school. But by then he had fallen so far behind he was moved down a year, and then a second.
By the time he left school he had only completed the seventh grade - not enough even to go on to a vocational school, let alone embark on secondary education.
Julek Mika was one of 18 Roma plaintiffs in a landmark case - DH and Others v Czech Republic - that was brought before the European Court of Human Rights by a group of NGOs. In 2007, the court ruled the Czech Republic was in breach of the European Convention on Human Rights and ordered the country to make amends.
It was a ground-breaking verdict. But little has changed.
Nomadic people whose ancestors are thought to have left north-west India at the beginning of the 11th Century and scattered across Europe
EU's largest Roma minority is in Romania - more than a million
Many Roma in Europe are hampered by poverty, low literacy levels and discrimination
In 2005, the first tier of special schools, for children with "mild mental disabilities", were renamed "practical schools". Civil society NGOs dismissed that as a cosmetic rebranding exercise.
Whatever you decide to call the schools, Roma children are still hugely over-represented in them. A 2012 study by the Czech Ombudsman's Office revealed that an estimated 35% of children attending special classes were Romany, despite the Roma making up at most 2.8% of the Czech population.
Children in special classes follow a less demanding curriculum and, like Julek, have virtually no prospect of going on to secondary school or university. The best they can aspire to is an unskilled job or a life on benefits.
"This is a serious wake-up call for the Czech government," says Marek Szilvasi, research and advocacy officer for the Budapest-based European Roma Rights Centre (ERRC).
"This is the first time the European Commission has decided to start infringement proceedings against a country for failing to implement the Race Equality Directive," Mr Szilvasi told the BBC.
The new Czech government - in power since January - is preparing a formal response to the European Commission's complaint.
"The government devotes an extraordinary degree of attention to ensuring the same approach to all children, pupils and students in education," the education ministry said in a statement.
"The European Commission criticises the Czech Republic for a legal amendment that was introduced by the previous government, allowing children to be sent to practical schools."
"The current government, on the other hand, is introducing a new school law containing substantial pro-inclusive steps, some of which will come into effect from the beginning of the next school year," the education ministry went on.
Critics are not holding their breath. The current minister - Marcel Chladek - is the seventh to hold office in as many years.
The "segregation" of education is entrenched in various degrees throughout the former communist countries of Central and Eastern Europe; it is not a purely Czech problem. It is also very complex and nuanced, especially when it comes to the issue of the parental consent that must be given before a child can be placed in a special school.
"It's not the kids' fault, it is down to the parents," said Richard Karol, a 17-year-old music conservatory student who has formed a rap group with three friends called United Gipsy Crew.
Back in 2012 the group recorded a song called Nebud Dilino - Romany for "Don't Be a Fool" - aimed at dissuading parents from sending their children to special schools. They are now about to release their first album.
"Our message is aimed partly at kids, that they should study hard, but mainly at the parents: send your kids to normal school, don't send them to special school," Mr Karol told the BBC.
But even those Roma children in mainstream education often find themselves sitting in classrooms with other Roma.
This is because ethnic Czech parents will often move their children elsewhere if the school is perceived as a "Roma" school. It is a pernicious form of "white flight" that threatens to frustrate efforts to end the separate education of Roma and Czech children.
"I recently went to visit relatives in England," says Julek Mika, who did eventually find work as a local community facilitator for the ERRC.
"I went to my niece's school and it was fantastic. There were black kids, Pakistani kids, Kurdish kids, Czech kids, Slovak kids. They were all there together. There were no differences," he told the BBC.
"Here in the Czech Republic there are two ethnic groups, Czech and Roma. We live completely separate lives. And nothing, it seems, can bring us together."